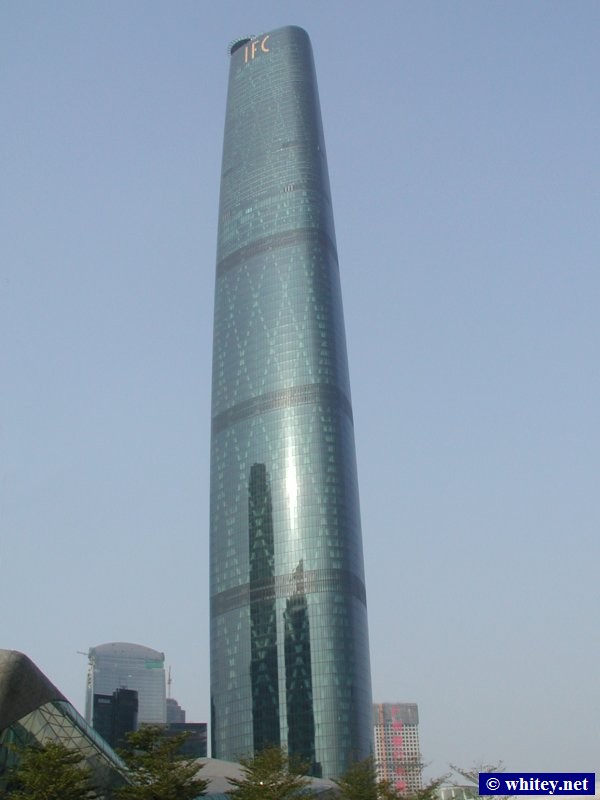 Voto:
Continente: Asia
País: China
Localización: Guangzhou/Cantón
Año: 2010
Estado: Terminado
Descripción:Centro Financiero Internacional de Cantón Torre Oeste (chino simplificado: 广州国际金融中心; Chino tradicional: 广州国际金融中心; Pinyin: Guǎngzhōu Guójì Jīnróng Zhongxin) es un rascacielos de 103 pisos, 437,5 m (1.435 pies) de altura en Zhujiang Avenue West en el distrito de Tianhe en Cantón, China. La estructura del edificio fue finalizada el 31 de diciembre de 2008.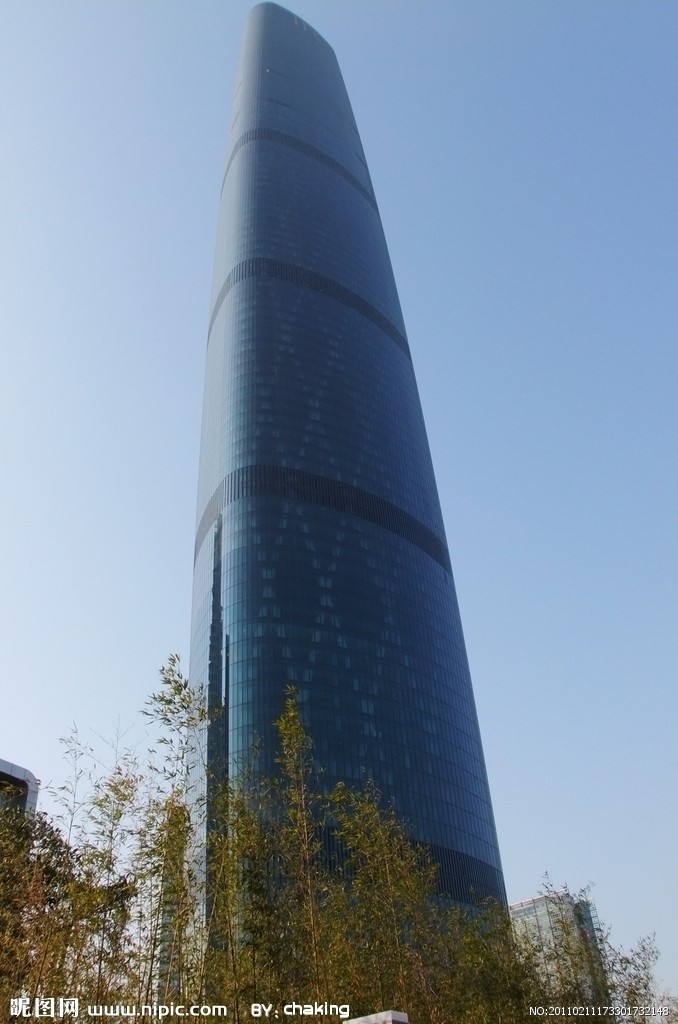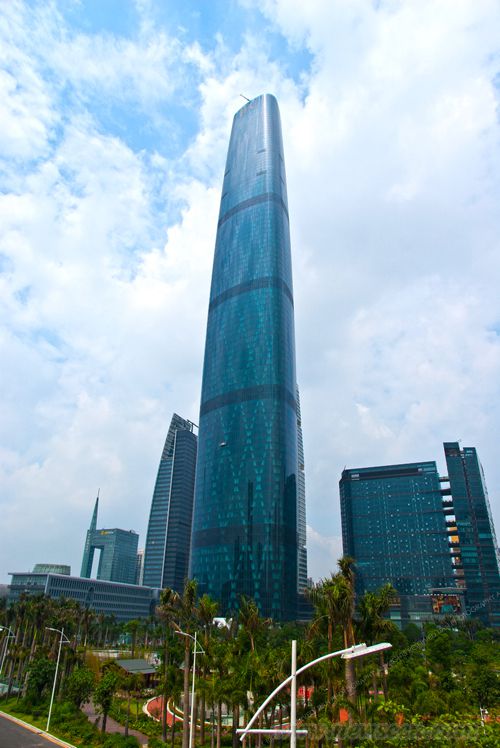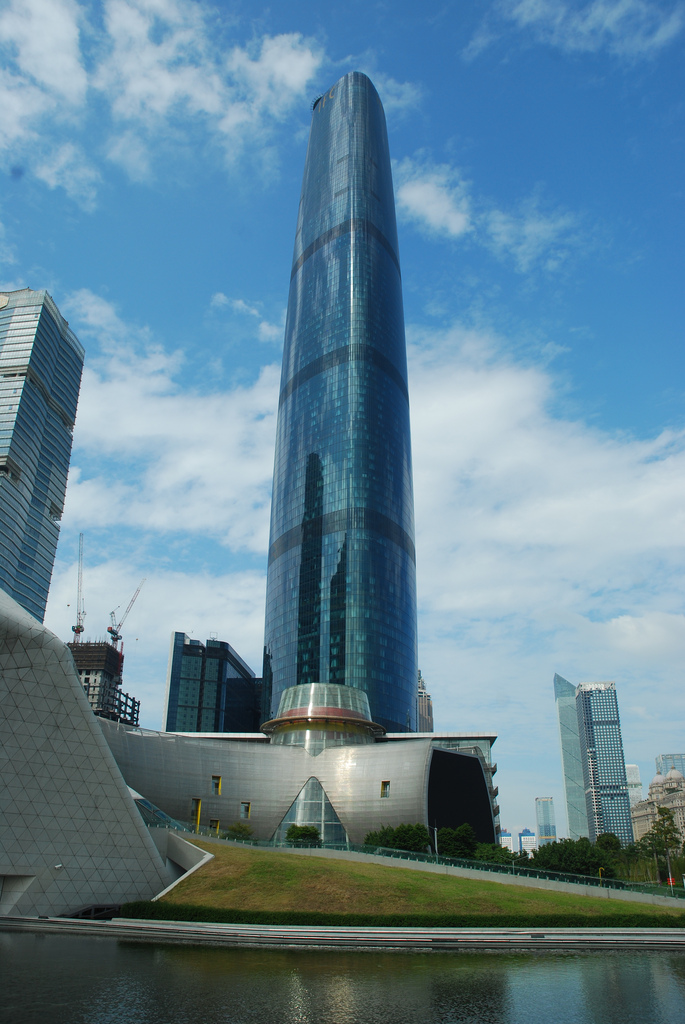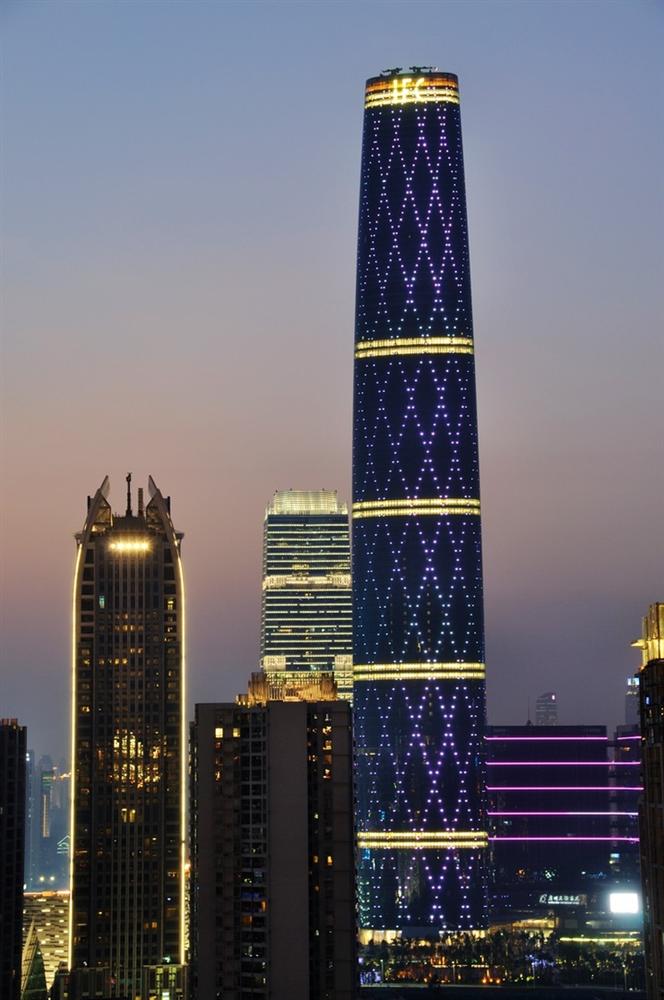 La construcción del Ghangzhu West Tower, diseñada por Wilkinson Eyre, se inició en 2005. Cuando se completaron en 2009, el edificio y su gemela se convertieron en uno de los más altos edificios en cantón y en China, se utiliza como un centro de conferencias, hotel y edificio de oficinas. Los 69 pisos mas bajos están para ser utilizados como oficinas, y de los pisos 70 a 98 se utilizaran como un hotel y en el piso 99 y 100 hay una plataforma de observación.
http://es.wikipedia.org/wiki/Guangzhou_International_Finance_Center
http://en.wikipedia.org/wiki/Guangzhou_International_Finance_Center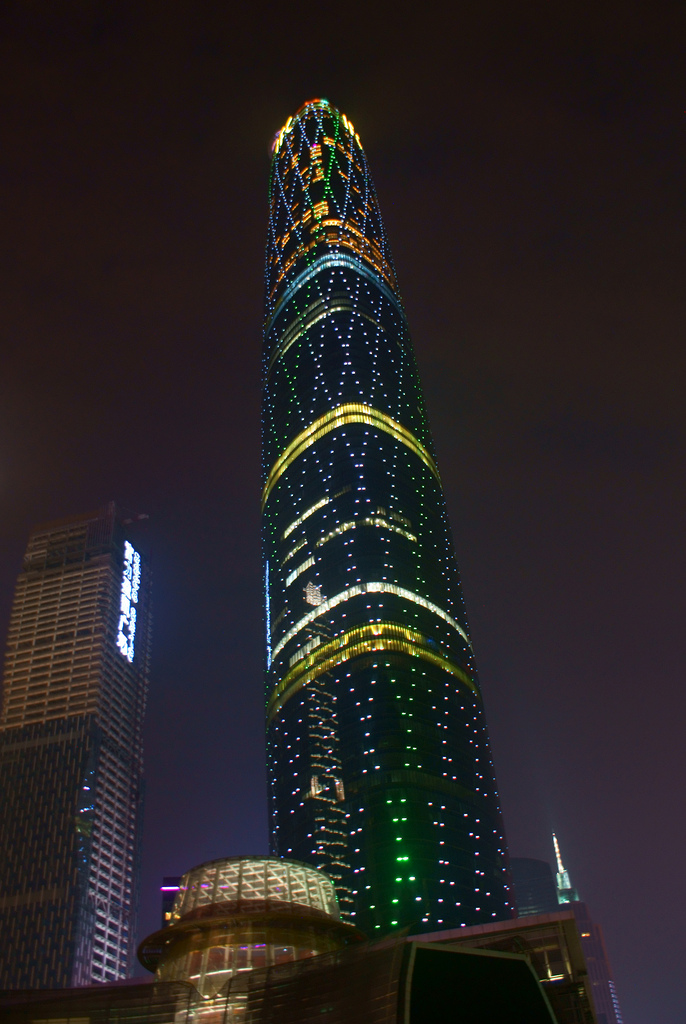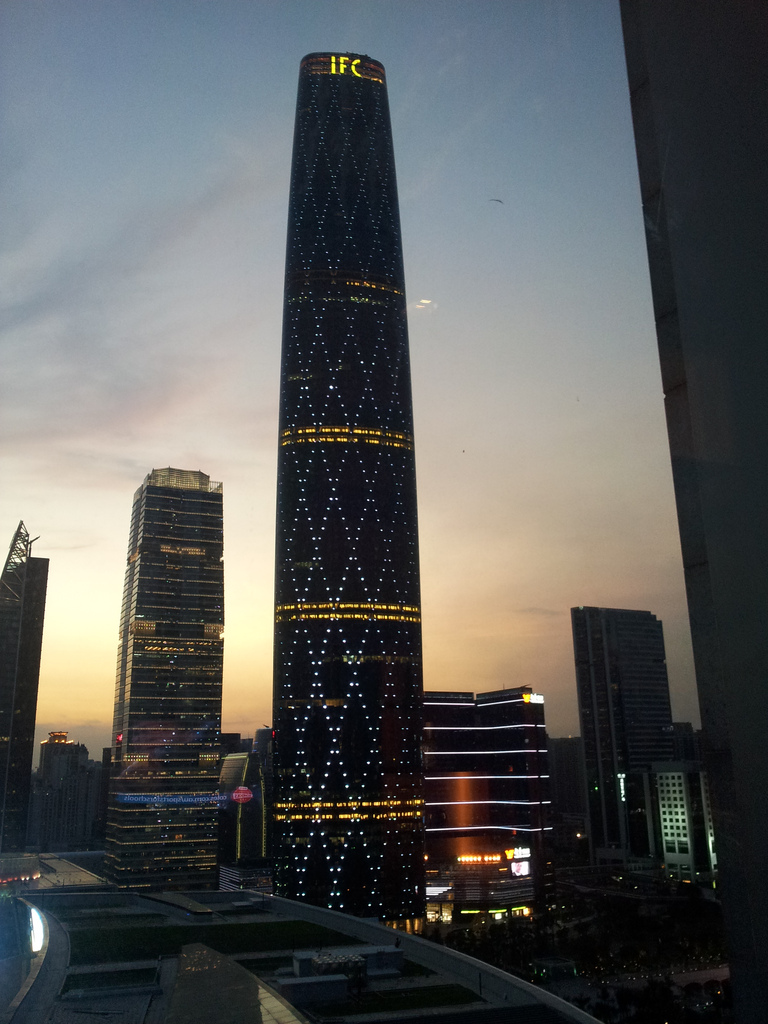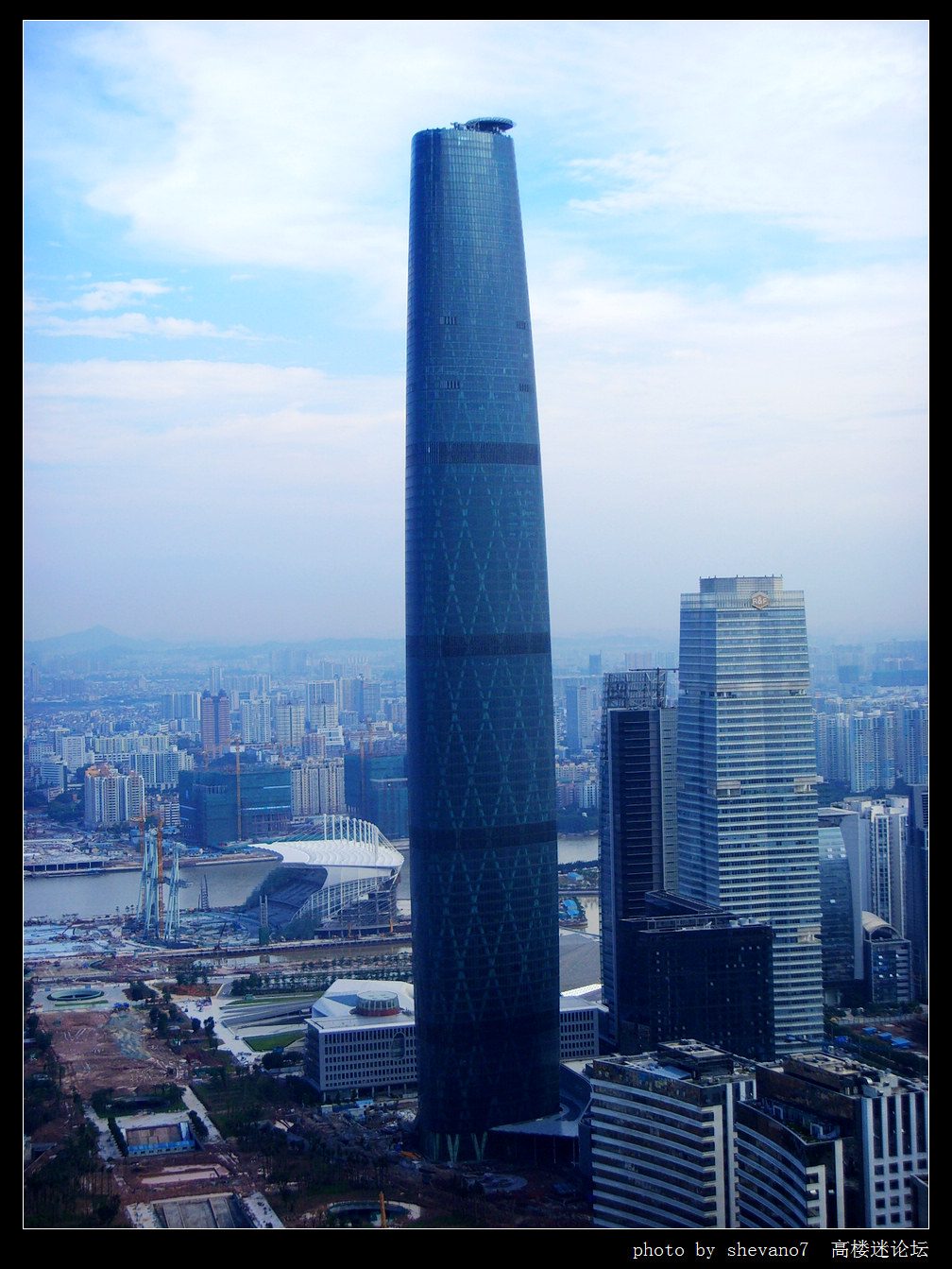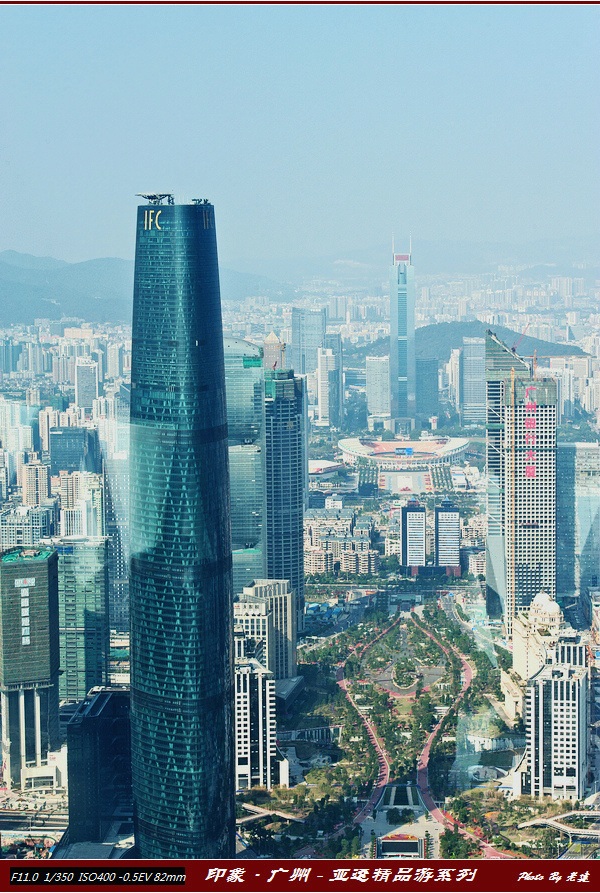 Guangzhou International Finance Centre de Wilkinson Eyre Architects gana el Lubetkin Prize
Por Katerina Gordon
Ahora en su sexto año, el Premio Lubetkin 2012 del Instituto Real de Arquitectos Británicos (RIBA) ha sido otorgado a Wilkinson Eyre Architects por su Guangzhou International Finance Centre en China. Este premio anual se entrega al "mejor edificio nuevo fuera de la Unión Europea".
La presidenta de la RIBA y juez, Angela Brady, comentó: "Con una visión y habilidad excepcional, Wilkinson Eyre Architects le ha dado a sus clientes y a la ciudad de Guangzhou un nuevo hito de 103 pisos. La estructura de la torre en forma de diamante, expuesta a través de las oficinas, y el atrio del hotel, parece simple pero enormemente compleja es la clave del éxito de este edificio. No sólo permite el dramático atrio y pisos más delgados, sino también trae beneficios ambientales mediante el uso de un 20% menos de acero que edificios similares. Guangzhou International Finance Centre es un digno ganador de este importante premio ".
El Guangzhou International Finance Centre, de 440 metros, es el edificio más alto del mundo realizado por un arquitecto británico. Tiene un programa de uso mixto que incluye espacio de oficinas, un hotel de lujo y una zona de atracción turística en la cúspide. A nivel del suelo, la torre se conecta con un complejo que contiene un centro comercial, centro de conferencias y departamentos. Como lo describe la RIBA: "El exitoso plan responde a la necesidad de espacios internos eficientes y un excelente rendimiento medioambiental."
El Guangzhou International Finance Centre compitió con tres otras sobresalientes estructuras (puedes verlas acá). Wilkinson Eyre Architects fue galardonado con el Premio Lubetkin 2012 este fin de semana recién pasado en Manchester. En la ceremonia en que Stanton Williams fue galardonado con el Premio RIBA Stirling 2012 por el Sainsbury Laboratory y christian pottgiesser architecturespossibles (CPAP) fue galardonado con la Medalla Manser 2012 por la Maison L.
El jurado del Lubetkin Prize 2012 estuvo presidido por la presidenta de RIBA Angela Brady con los arquitectos Deborah Saunt, Cindy Walters, Philip Gumuchdjian y el presidente de Premios de la RIBA Tony Chapman.
http://www.plataformaarquitectura.cl/2012/10/18/guangzhou-international-finance-centre-de-wilkinson-eyre-architects-gana-el-lubetkin-prize/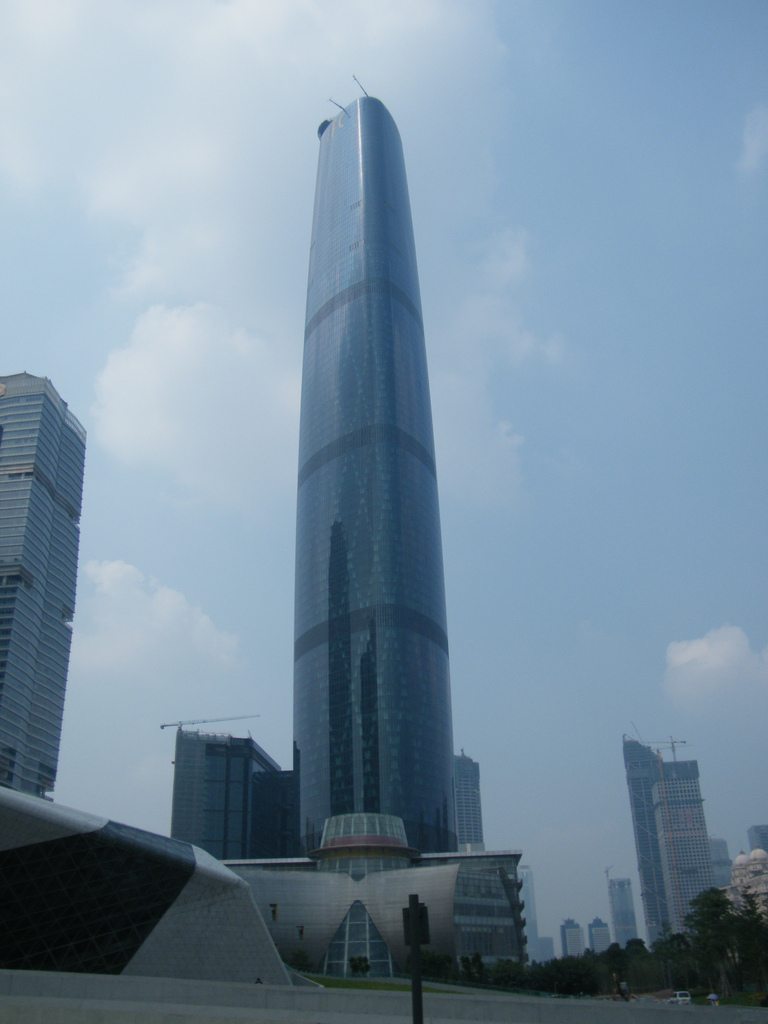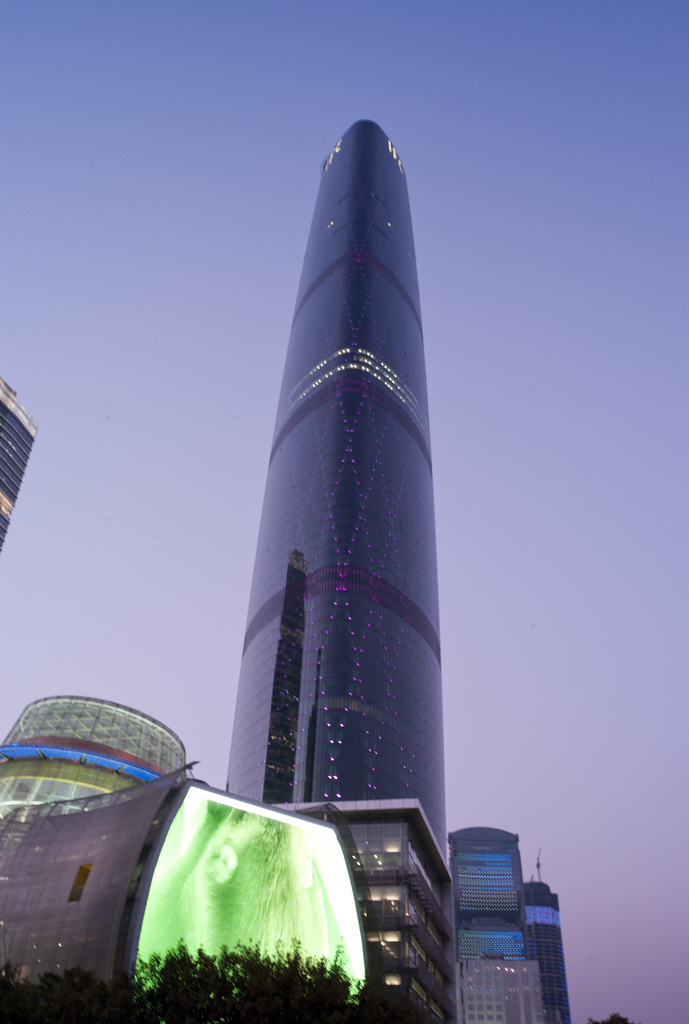 Guangzhou IFC opens: one of the world's 10 tallest skyscrapers
by Chinanews.comSep 26, 2012
Guangzhou International Financial Center (IFC), one of the world's tallest skyscrapers, has opened after seven years preparation. Eight-five per cent of the total space has been leased out. At up to 210 yuan per square meter, a record rent fee has been set in the Chinese city.
As Guangzhou's new landmark building, Guangzhou IFC started construction in 2005 and launched a trial run in 2010. After a two year period, Yuexiu Group decided to open the 103-storey skyscraper. The 432-meter-high mansion lists in top 10 tallest buildings in the world. Total investment reached 8.1 billion yuan.
The super tower is composed of a 5-star hotel, high-end shopping mall, international conference center, grade A offices and serviced apartments. A four Seasons Hotel and Guangzhou Friendship Group became two of the first batch tenants.
In addition to a breakthrough of construction technology, the operation also initiated mainland property financial innovation. Yuexiu Property injected Guangzhou IFC into associated Yuexiu REIT, which cut 4.5 billion yuan bank loans while creating a 4 billion yuan gain in cash flow. Such action may shorten the investment return cycle by 15 years.
"It symbolised a double platform to drive up long-term commercial projects," said Chen Zhihong, executive director of Yuexiu Property. According to the company's plans the mother company will be responsible for early development and share first time sales profit. The affiliated REIT is to seek for potential acquisition target of commercial property.
http://gochina.scmp.com/guangzhou/business/guangzhou-ifc-opens-one-world's-10-tallest-skyscrapers
http://www.skyscrapercity.com/showthread.php?t=299636