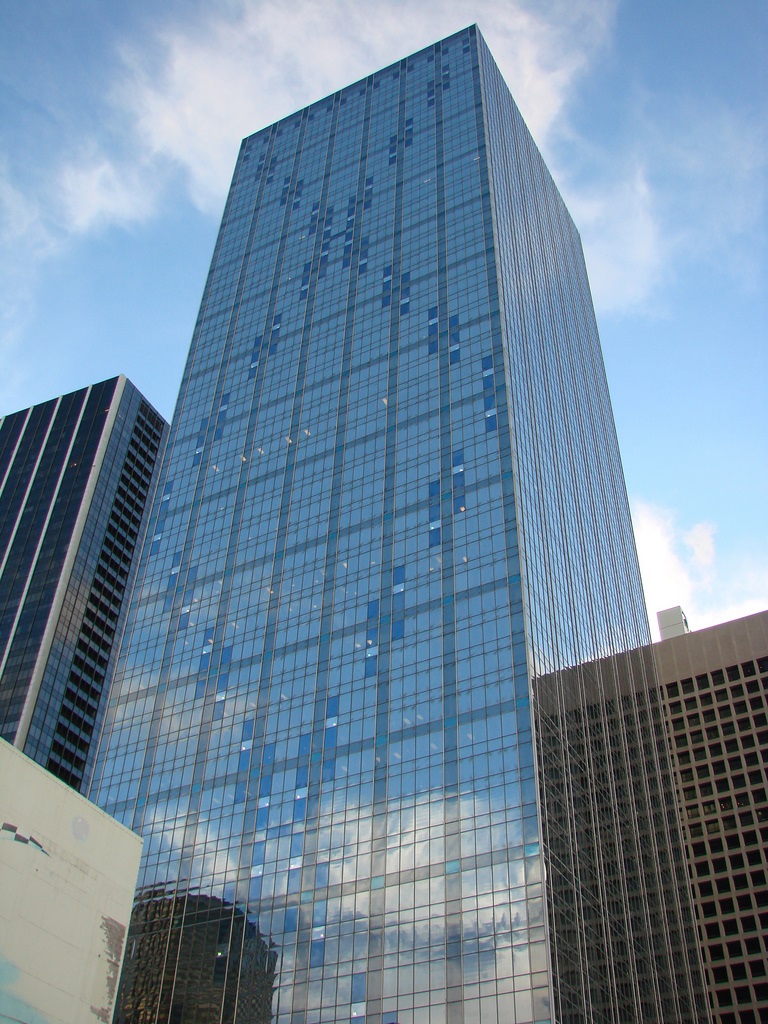 Voto:
Continente: América
País: Estados Unidos
Localización: Dallas
Año: 1974
Estado: Terminado
Descripción:Renaissance Tower
1201 Elm - 1974; re-glazed 1986
Designed by HOK of Dallas and completed in 1974, this skyscraper originally was the simplest of forms, a 56 story gold glass box that was 710 feet high. The building features cross bracing in the form of two large "X" patterns on behind each facade. When the building was originally constructed, these structural elements were not expressed on the exterior. At night, however, lights were placed behind the glass that expressed the structural system of the building. In 1986, the building underwent a major renovation that remodeled all of the buildings public areas and made significant exterior changes to the building. In the public plaza on the west side of the building and over the underground shopping areas, a large glass triangular pyramid entry was constructed. All of the silver glazing was removed and was replaced by a glass design that featured different colors of glass. This introduced a post modern design to the facades and expressed the "X" cross bracing on the exterior of the building. The base of the building was reconstructed out of granite.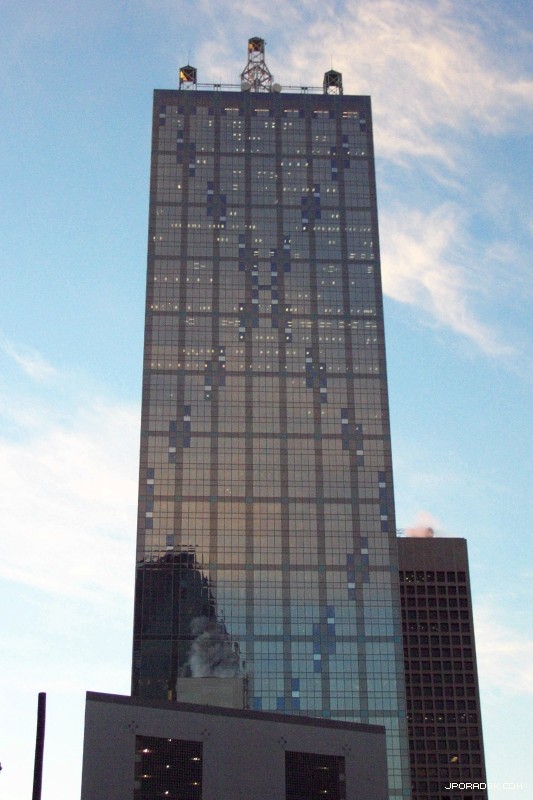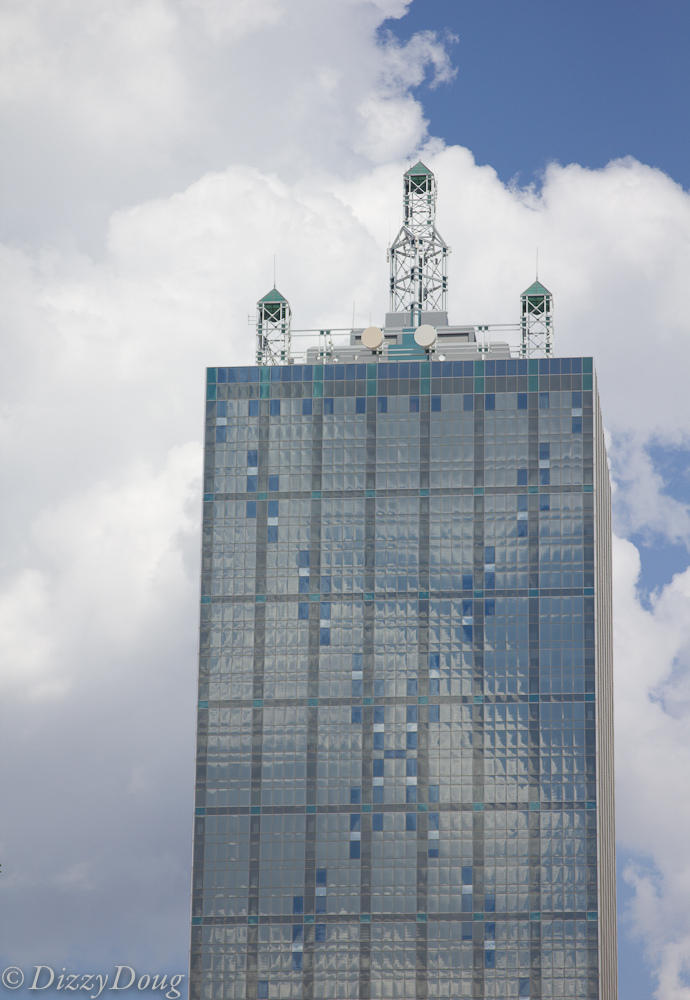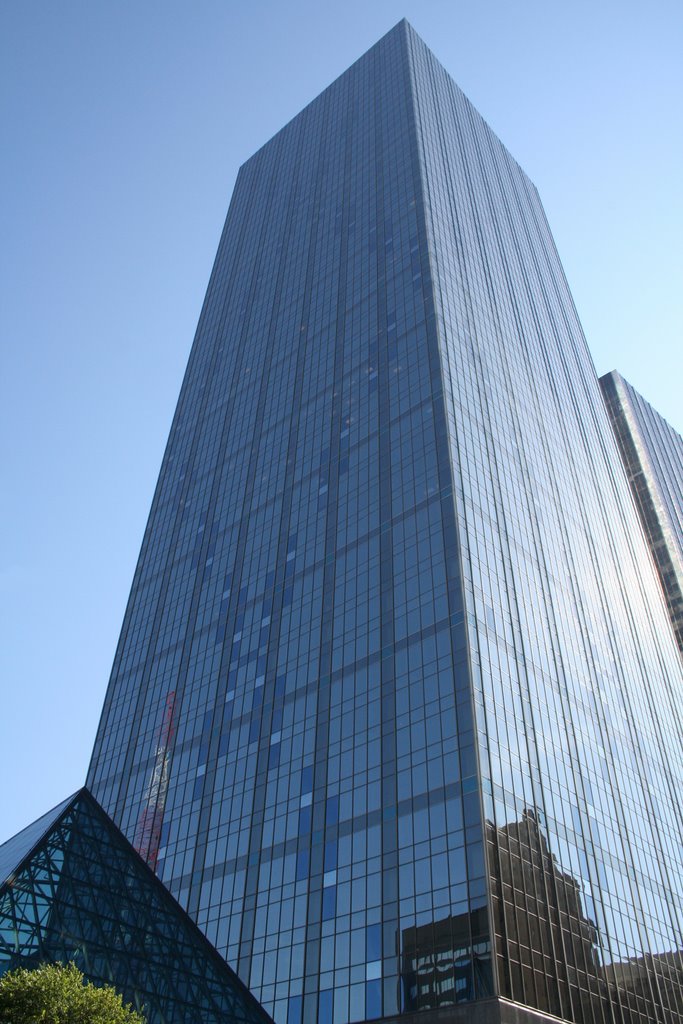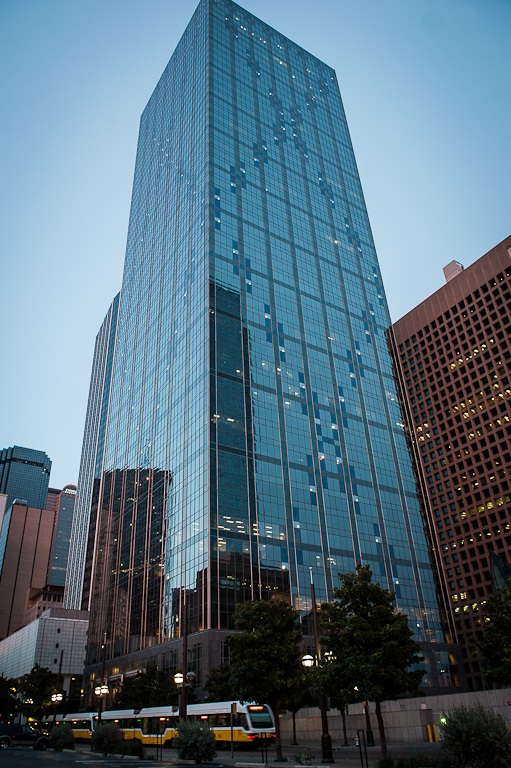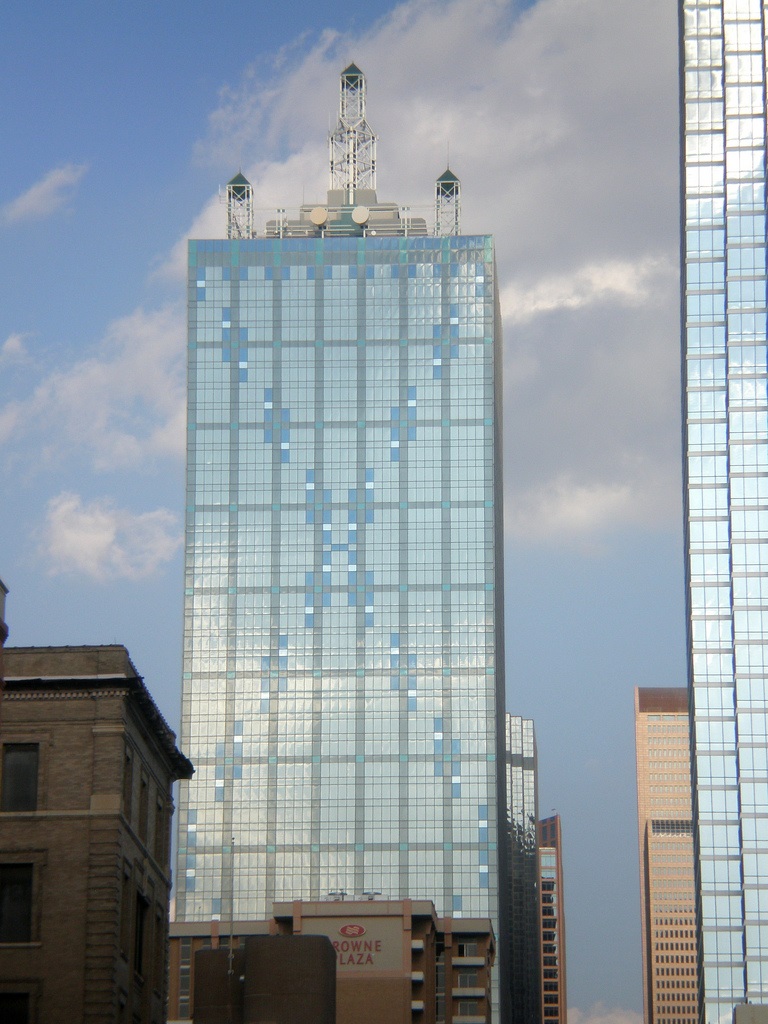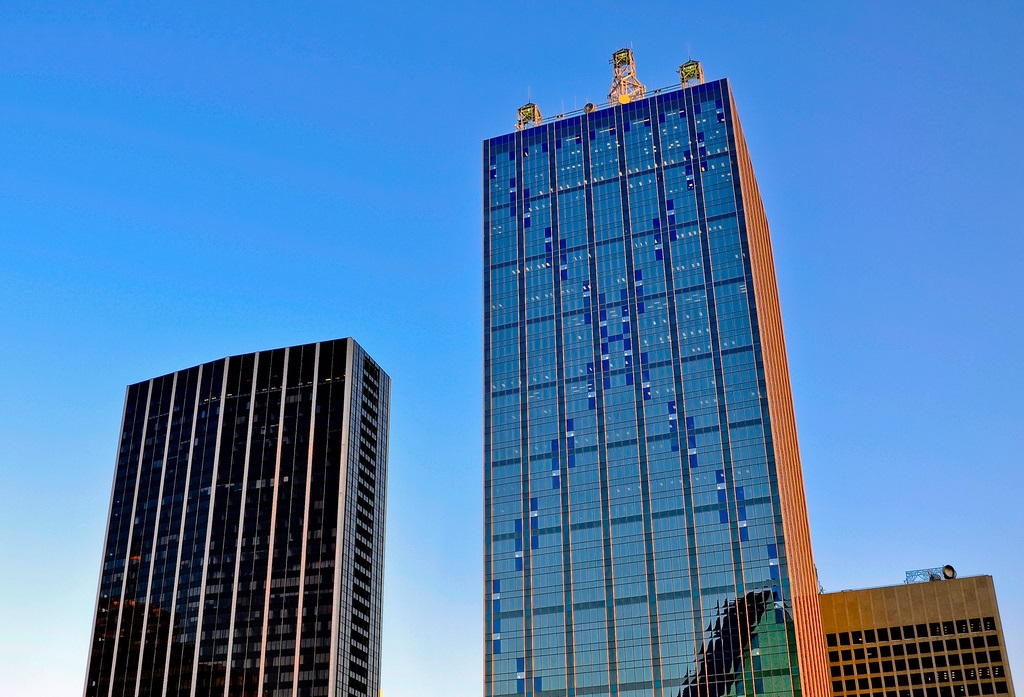 The most significant change was made at the top of the building. A three level stepped back top was added to the building. In front of the penthouse addition a decorative steel framework was added to house additional communications equipment. At each corner of the decorative framework four steel towers were added. On top of the penthouse a taller steel tower was constructed. Each of the five towers are topped by a white diamond. The height of the tallest tower is 176 feet above the roof. At night the building is illuminated with a double "X" pattern on each facade and lights inside each of the five diamonds at the tops of the towers. The five towers also have lights within their bases that highlight their steel framework. If the penthouse and the decorative towers are included, the skyscraper is 886 feet tall and is the 2nd tallest building in Dallas.
http://www.dallasarchitecture.info/rentower.htm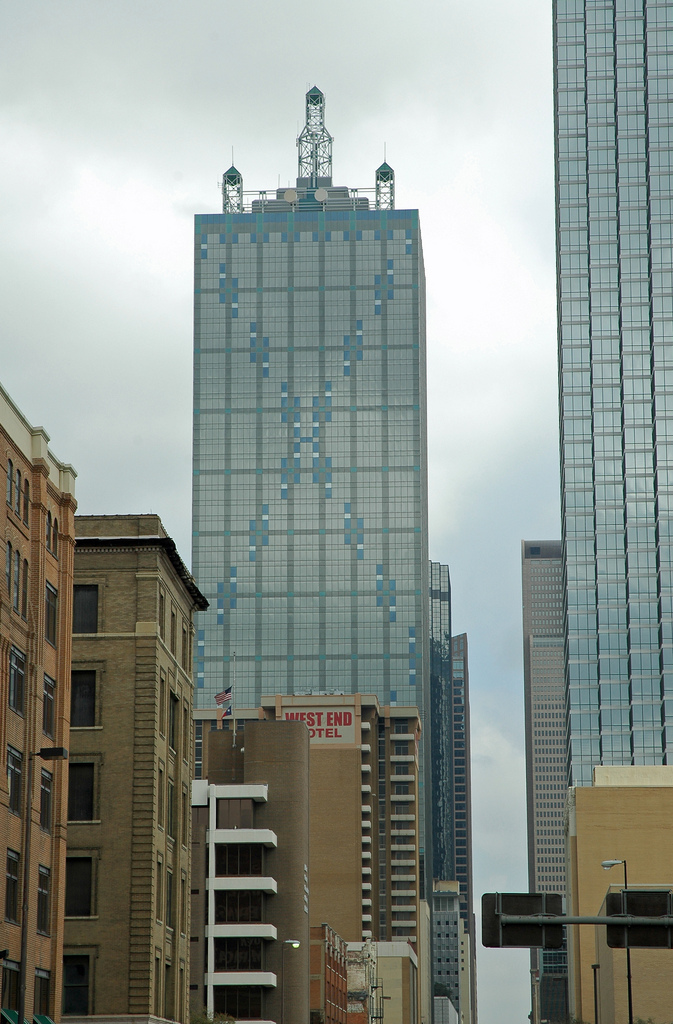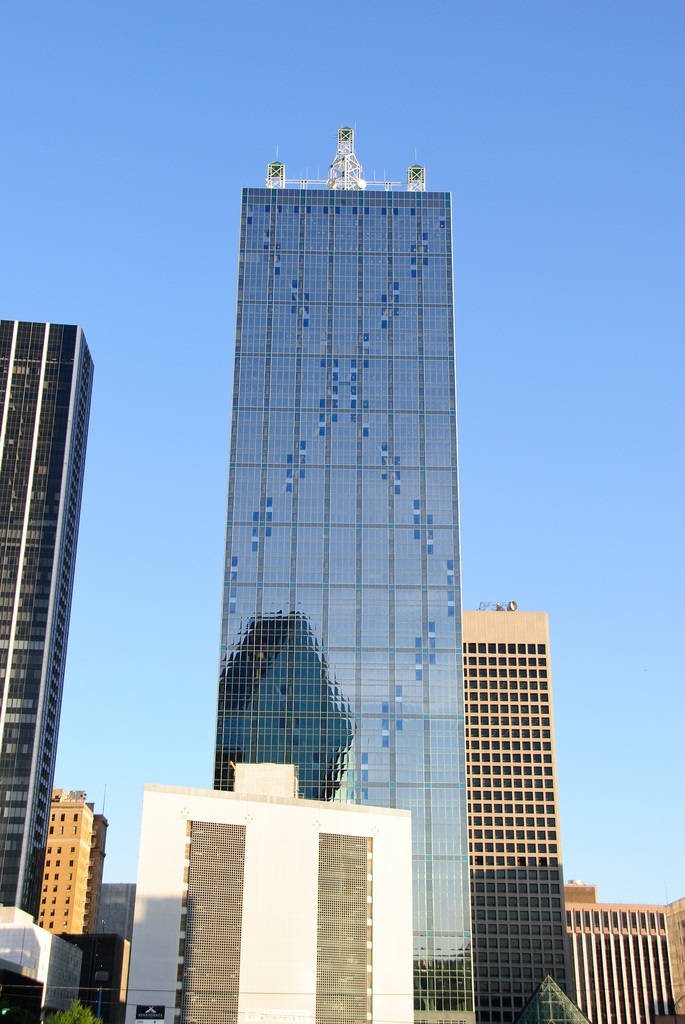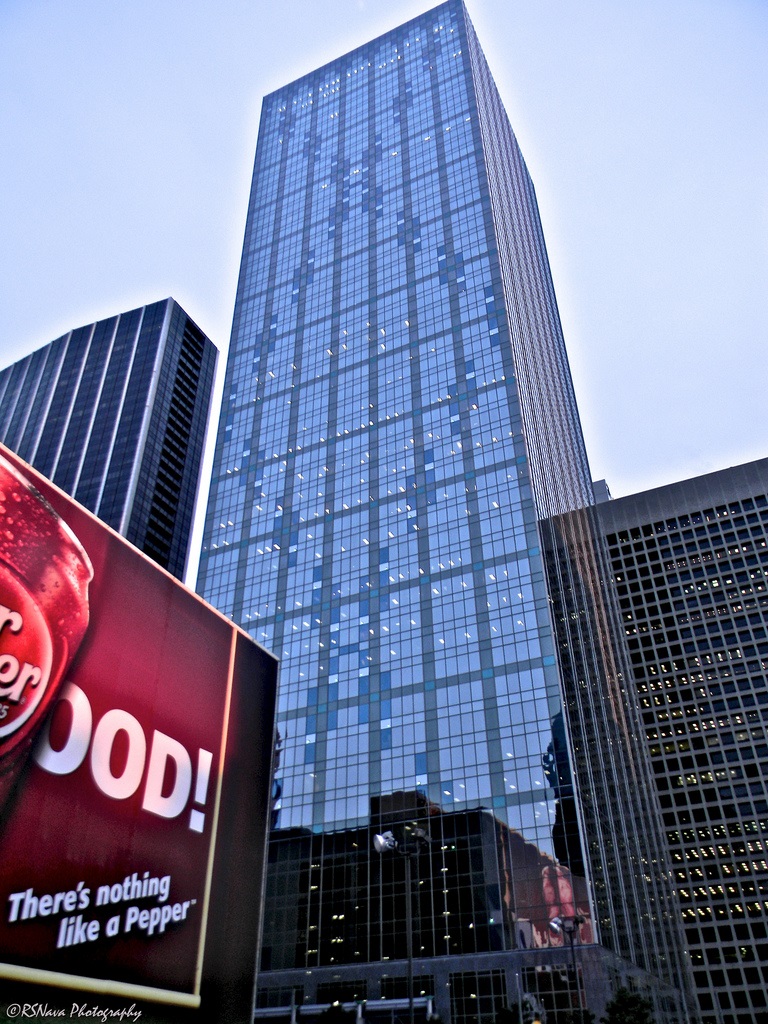 La Renaissance Tower o Torre Renacimiento es un rascacielos de 56 plantas localizado en Dallas, Texas. Actualmente es el edificio sede de Blockbuster, Inc.1
Con una altura de 270 metros (886 pies), es el segundo rascacielos más alto de Dallas, el quinto de Texas, y el vigésimo tercero de Estados Unidos. El edificio fue diseñado por la firma Hellmuth, Obata and Kassabaum en 1974, y renovado por los arquitectos Skidmore, Owings and Merrill en 1986.
En el momento en que se finalizó su construcción, era el edificio más alto de Dallas con 216 metros (710 pies). Sin embargo, en 1985 su altura se vio superada por el Fountain Place, y el Bank of America Plaza. Además, se preveía que pronto sería sobrepasado por otras dos construcciones: la Comerica Bank Tower, y la JPMorgan Chase Tower.
Fue este el motivo de la renovación del año 1986, en la que se renovó el revestimiento exterior de cristal del edificio, y se colocaron varias torres decorativas en la parte alta del edificio, la mayor de las cuales medía 54 metros, alcanzándose los actuales 270 metros de altura, y asegurándose de este modo la segunda plaza entre los edificios más altos de Dallas.
http://es.wikipedia.org/wiki/Renaissance_Tower
http://en.wikipedia.org/wiki/Renaissance_Tower_(Dallas)
http://www.skyscrapercity.com/showthread.php?t=11659