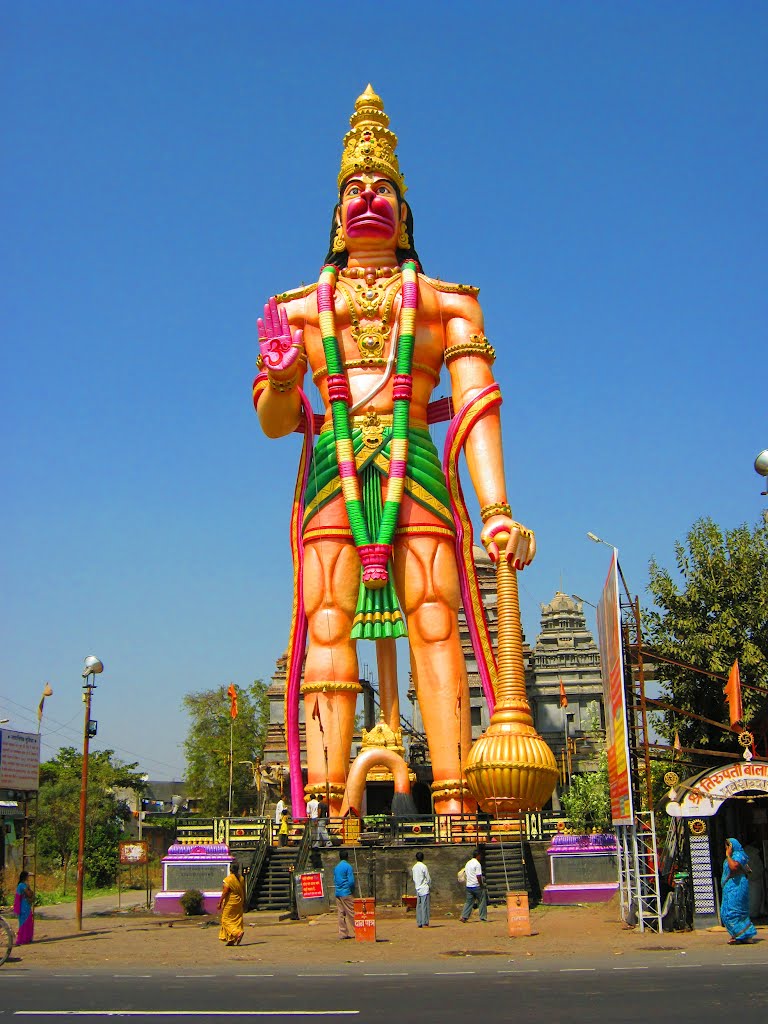 Voto:
Continente: Asia
País: India
Localización: Nandura
Año:
Estado: Terminado
Descripción:Third Tallest Statue of Lord Hanuman in the World
The Third Tallest Statue of Lord Hanuman is situated at Nandura in Buldhana district of Maharashtra. It is a Marvellous 105 ft tall statue with oustanding white looks. The Statue is near the National Highway no. 6 and can be very well sported of from there. The Statue is the only main tourist attraction for the small town of Nandura.
http://fullnfenil7.blogspot.com.es/2013/01/third-tallest-statue-of-lord-hanuman-in.html
Nandura is a town and a municipal council in Buldhana district in the Indian state of Maharashtra. It is the headquarters of Nandura taluka. Situated on the National Highway No. 6 and Mumbai-Howrah railway line, Nandura in an important town in the Buldhana district. Nandura municipality was established during the British Raj in 1931.[3]
Tourist attractions
The 108-feet statue of Lord Hanuman is a main tourist attraction in the town. It is situated on the national highway no. 6. About Murti : Height:108 ft. Chest:70 ft. Base:30 ft. Tail:70 ft. Arm:25 ft.(diameter) Gada 30 ft. Sole 34 ft. Nail of sole:15 ft. description: Lord Hanuman is son of Pawan (Air) and Anjani (the woman of highly spiritual native). Lord Hanuman is called PAWANSUT (Son of Air) and ANJANIPUTRA (Son of Anjani). About Murti :Height:108 ft.Chest:70 ft. Base:30 ft. Tail:70 ft. Arm:25 ft.(diameter) Gada 30 ft. Sole 34 ft. Nail of sole:15 ft. Getting there :By Air : Nearest Airport is Aurangabad, 197 km and Nagpur 317 km By Rail :NANDURA is situated on Mumbai - Howara(via NAGPUR) Railway Route, from Bhusawal Distance 90 km West By ROAD: One can approach by Road/Bus from Khamgaon a distance of 18 km connected with National High Way No.6. Direct Buses of state transport available from major cities of Maharashtra. THE MURTI CAN BE VIEWABLE FROM TRAINS RUNNING BETWEEN BHUSAWAL-NAGPUR-BHUSAWAL LINE. 35 SECONDS BEFORE (DOWN LINE RIGHT SIDE) AND AFTER (UP-LINE LEFT SIDE) OF THE TRAINS THROUGH NANDURA RAILWAY STATION...
http://en.wikipedia.org/wiki/Nandura
http://www.panoramio.com/photo/74055854