Voto:
Continente: América
País: Estados Unidos
Localización: Houston
Año: 1982
Estado: Terminado
Descripción:El JPMorgan Chase Tower es un rascacielos de la ciudad de Houston, Texas (Estados Unidos). Al principio fue bautizado con el nombre de Texas Commerce Tower. Se trata del edificio más alto de Houston y Texas y una de las estructuras más altas del mundo. Mide 305 metros de altura repartidos entre sus 75 plantas. Las obras acabaron en 1982.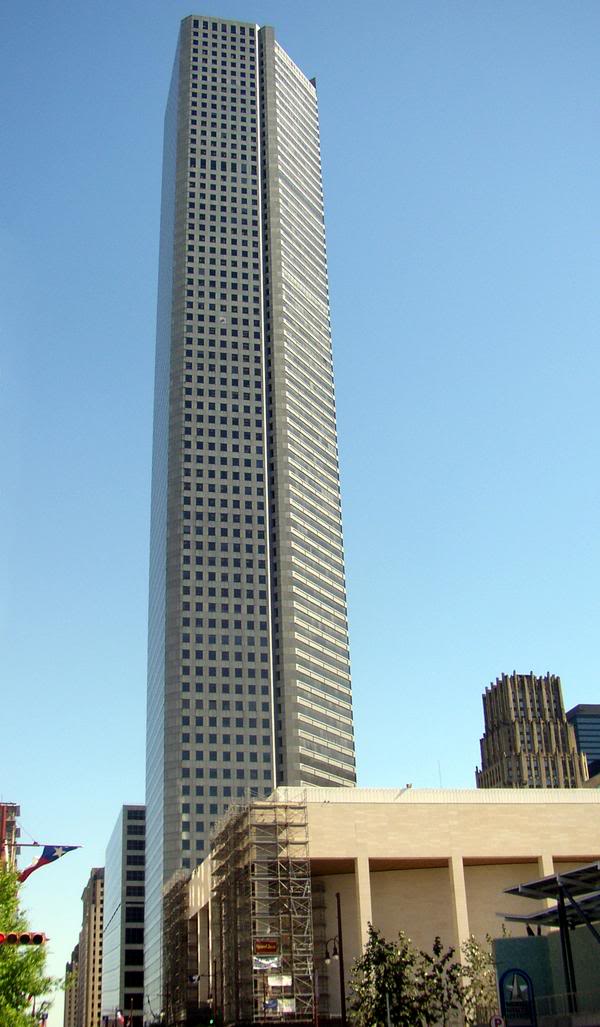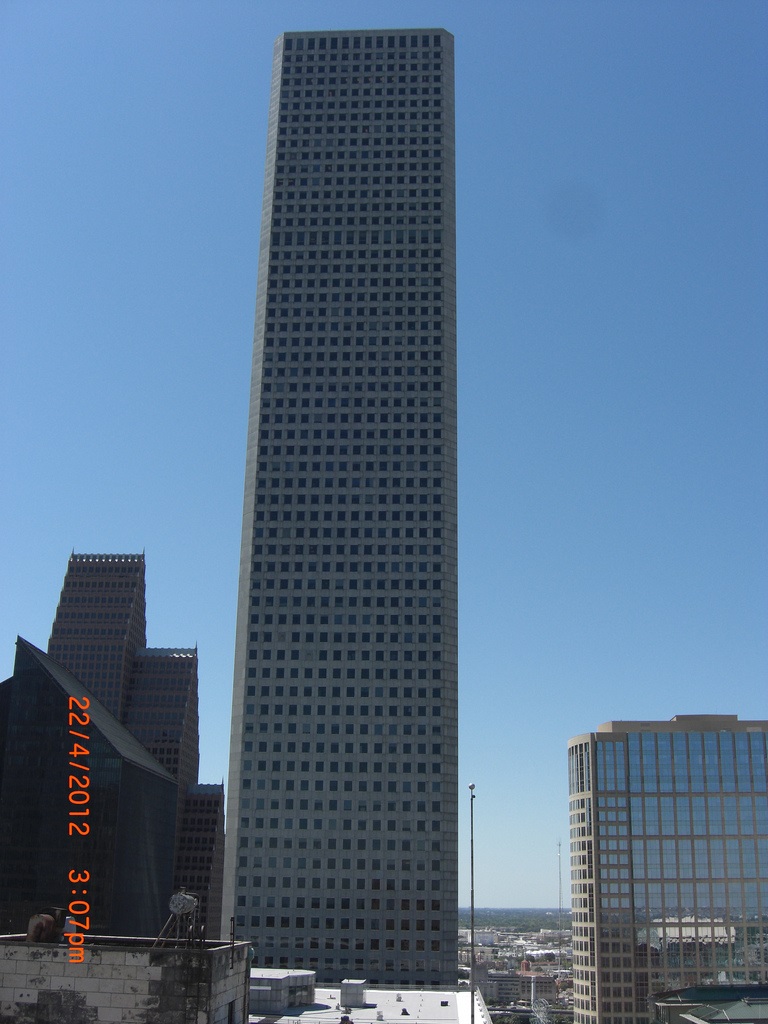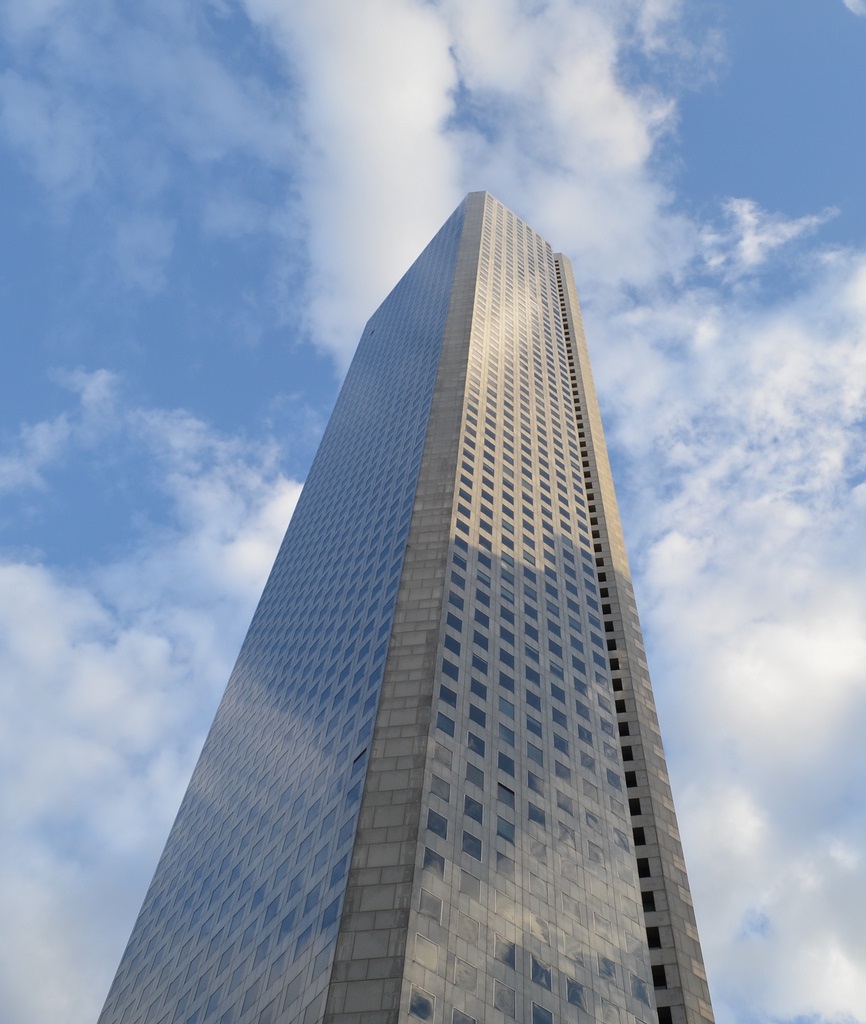 La torre se empezó a levantar en el número 600 de Travis Street en 1981. Fue diseñado por los arquitectos I. M. Pei & Partners. Según los planos iniciales se proyectaron 80 plantas, pero la FAA expresó su preocupación por la excesiva altura del proyecto, que podía interferir peligrosamente con los aviones que despegan y aterrizan en el cercano aeropuerto William P. Hobby Airport.
El rascacielos sobrepasó al Aon Center de Los Ángeles como el edificio más alto de los Estados Unidos al oeste del río Mississippi. Se mantuvo en esa posición hasta la finalización de la construcción del US Bank Tower en Los Ángeles en 1990.
http://es.wikipedia.org/wiki/JP_Morgan_Chase_Tower
http://en.wikipedia.org/wiki/JPMorgan_Chase_Tower_(Houston)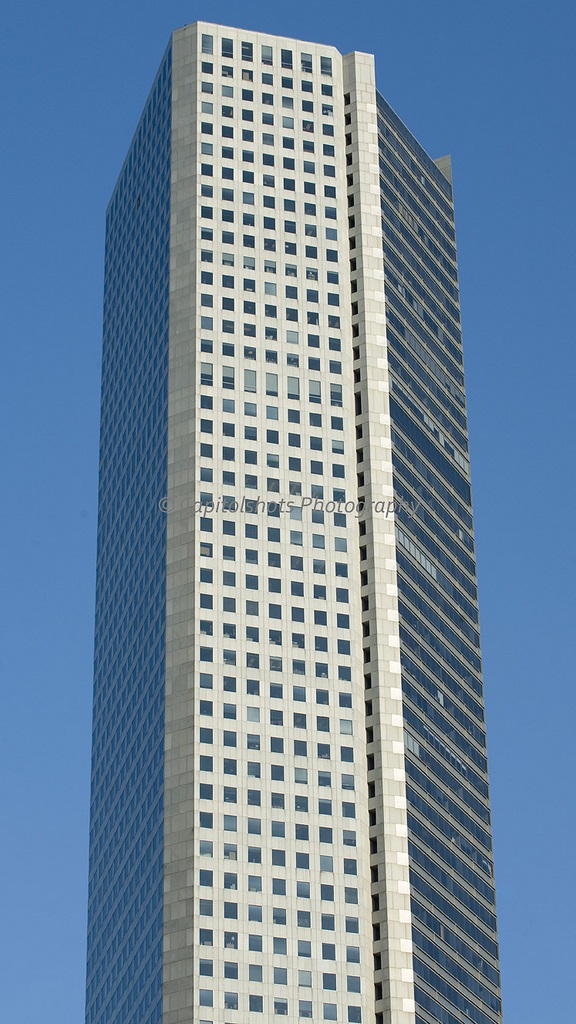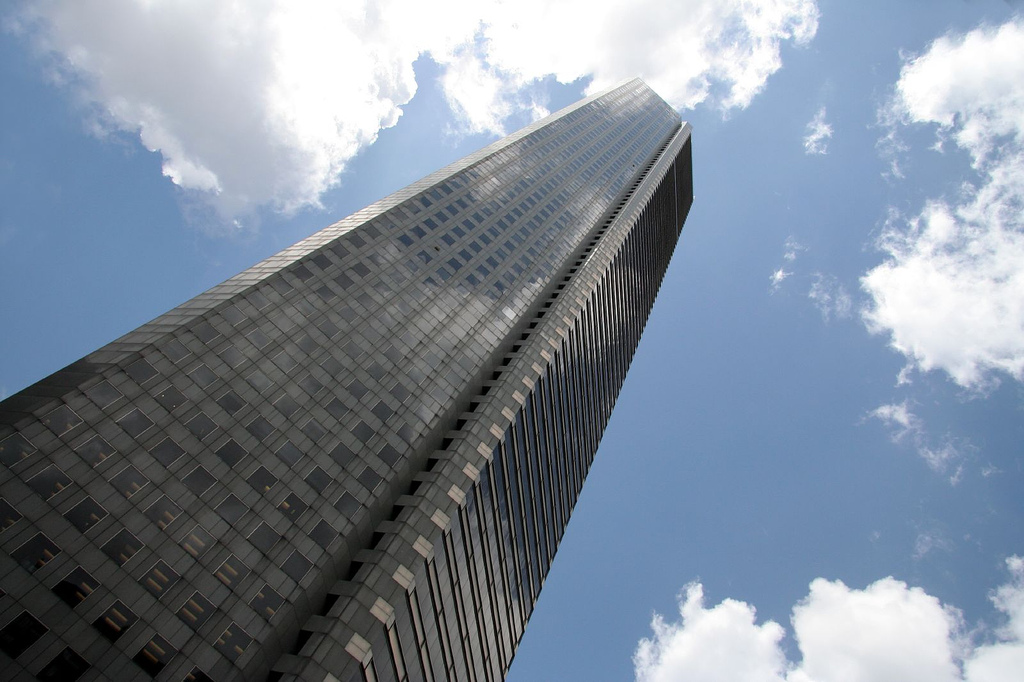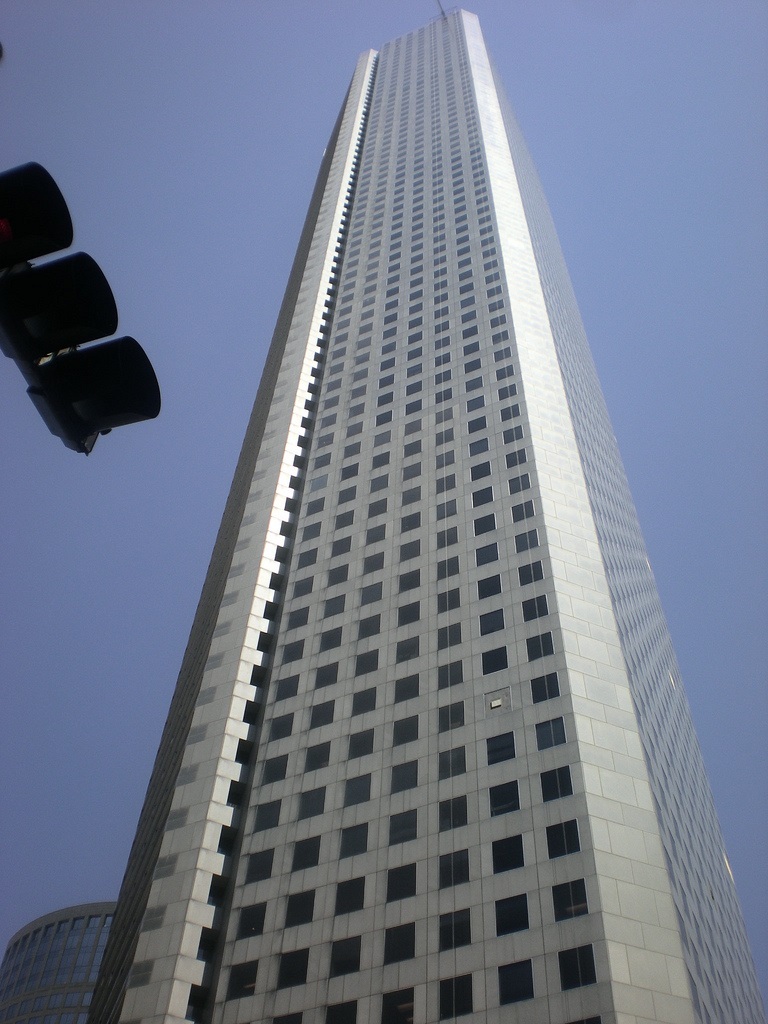 El JPMorgan Chase Tower está también conectado con el Houston Downtown Tunnel System. Este sistema forma una red subterránea de túneles para viandantes y conducciones de climatización que une, al menos, veinticinco rascacielos de esta parte de la ciudad. Tiene un observatorio en la planta 60, desde el cual se puede ver una panorámica de toda la ciudad de Houston.
JPMorgan Chase Tower, formerly Texas Commerce Tower, is a 305 m (1,001 ft), 75-story skyscraper in Houston, Texas. It is currently the tallest building in the city, the tallest building in Texas, the tallest five-sided building in the world, and the 48th tallest building in the world.
The tower was built in downtown Houston at 600 Travis Street in 1981 as Texas Commerce Tower. It was designed by noted architects I. M. Pei & Partners. The local architect and architect of record is 3D/International. In some early plans, the building reached up to 80 stories; however, the FAA expressed concern that additional height was a risk for aircraft going into and out of nearby William P. Hobby Airport. Nonetheless, when it was completed, it was the eighth tallest building in the world. The building was developed as part of a partnership between Texas Commerce Bank and Khalid bin Mahfouz.
Upon its completion, the building surpassed Aon Center in Los Angeles to become the tallest building in the United States west of the Mississippi River, a title it held until Los Angeles' Library Tower, now known as the U.S. Bank Tower, was built in 1990.
JPMorgan Chase Tower is also connected to the Houston Downtown Tunnel System. This system forms a network of subterranean, climate-controlled, pedestrian walkways that link twenty-five full city blocks. The lobby of JPMorgan Chase Tower has been designed to harmonize not only with the height of the structure, but also with the portico of Jones Hall. For that reason, a five story glass wall supported by a stainless steel space frame spans the entire 85 foot width of the front entrance, making the lobby area light and airy, and opening up the space to the plaza outside.
The sky lobby observation deck is located on the 60th floor. The sky lobby acts as a transfer point for persons traveling to the upper (61-75) floors, but also as an observation deck for the public during the working hours of 8:00 a.m.-5:00 p.m. Monday-Friday, free of charge. One can take the express elevator, providing a panoramic view of the city of Houston thanks to the use of wide glass spans and thirteen-foot ceilings. At the entrance of the building is a multi-colored sculpture designed by Joan Miró.
While the tower's name reflects the bank JPMorgan Chase, the only space designated to Chase is a single branch office on the bottom floor. The tower is owned by Prime Asset Management and managed by its original owner, Hines Interests.
http://www.urbika.com/projects/view/4389-jpmorgan-chase-tower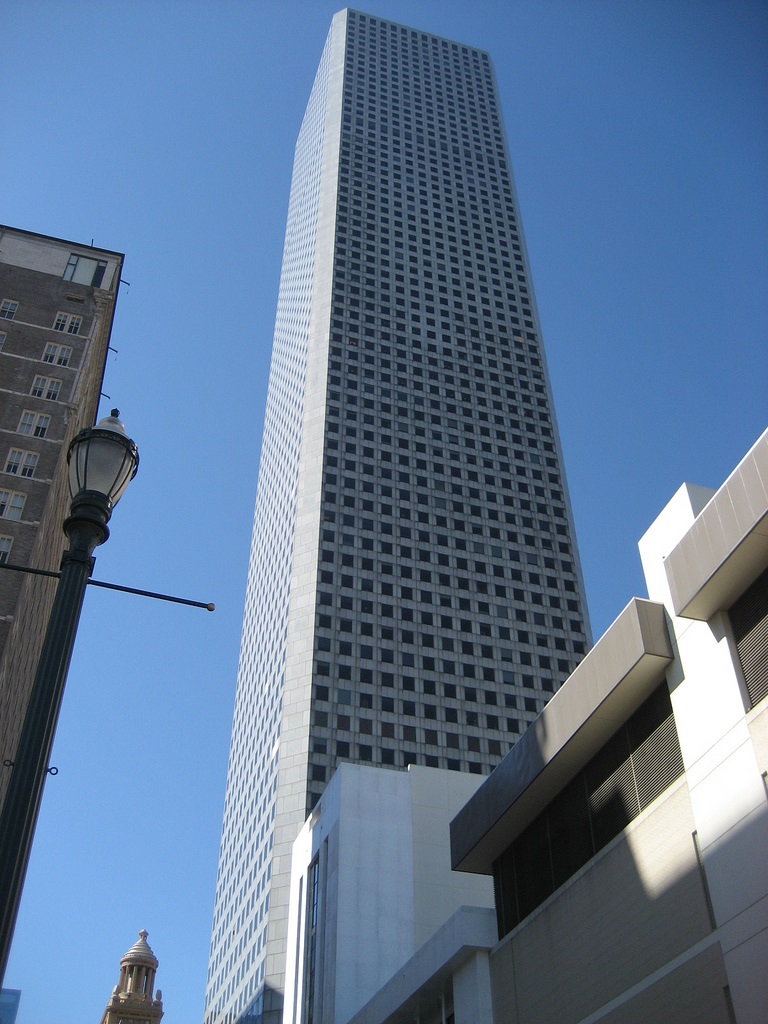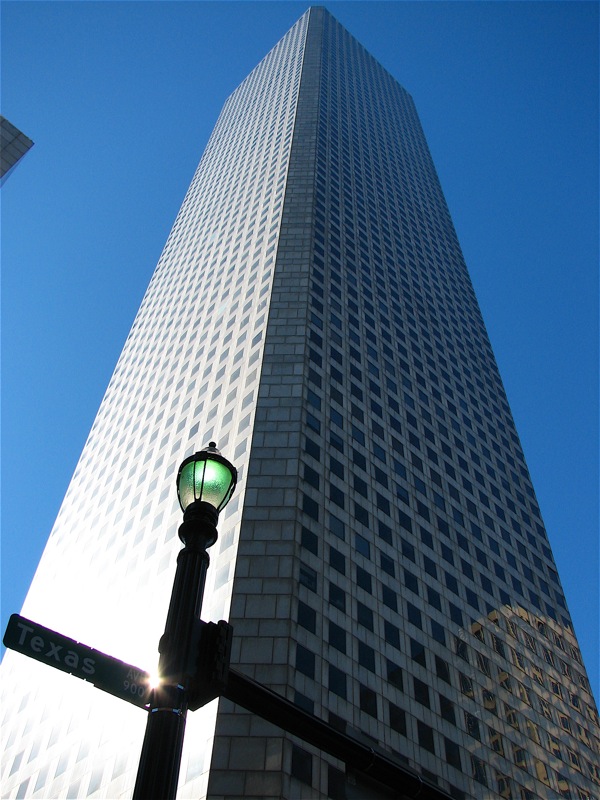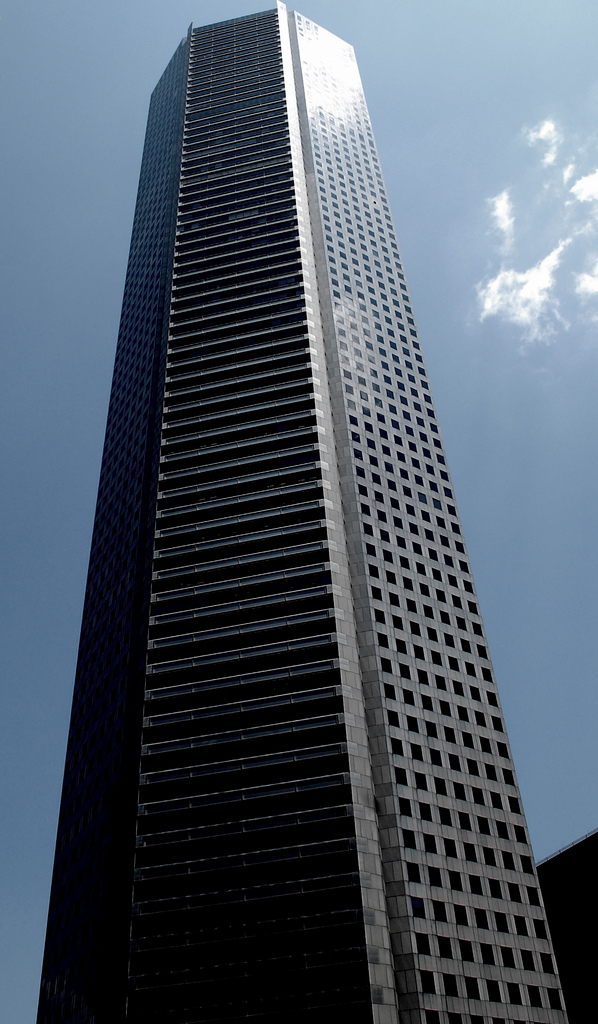 JPMorgan Chase Tower was originally named Texas Commerce Tower. It is located on the north side of Downtown Houston and is the tallest building in Houston and Texas. The second tallest building in Houston is the Wells Fargo Plaza.
The lobby of the JPMorgan Chase Tower was designed to match with Jones Hall, which is Houston's home to the Houston Symphony Orchestra. The lobby actually opens up to the Plaza outside, which connects to Jones Hall. The building has an observation deck on the sixtieth floor, which gives breathtaking views of the Houston skyline. In addition it breaks up the elevator banks and one must get off at the 60th floor in order to access the elevators for the next 15 floors.
The JPMorgan Chase Tower is the tallest five sided building in the entire world. It is pale gray color with polished granite. The building includes 22,000 square feet of Houston retail space. The Houston office building is a recipient of the Energy Star for Sustainability for 2004, 2005, and 2007 - 2011. In addition, it holds a LEED Gold certification.
http://www.thesquarefoot.com/buildings/tx/houston/77002/downtown/600-travis-st/jp-morgan-chase-tower
http://www.city-data.com/forum/city-vs-city/825059-bank-america-plaza-dallas-vs-jpmorgan.html