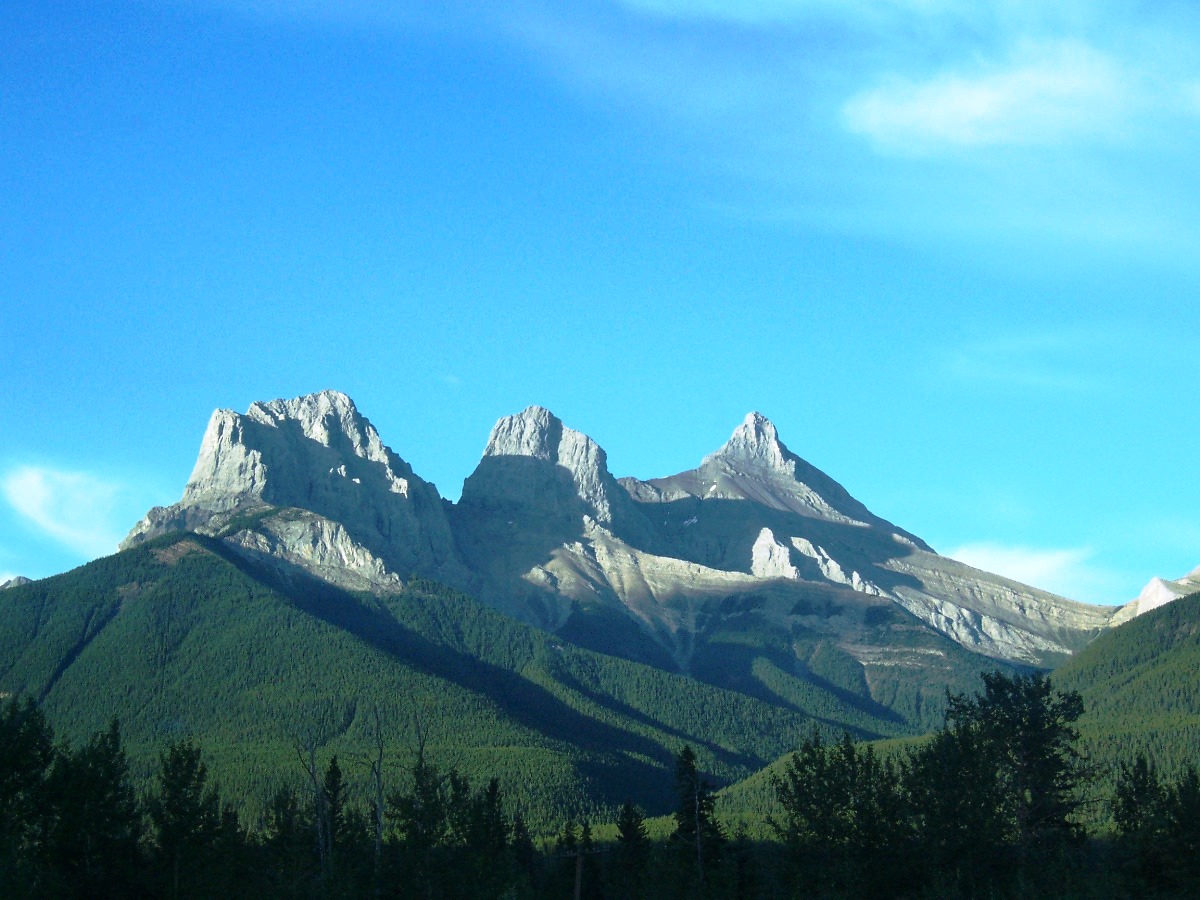 Voto:
Continente: América
País: Canadá
Localización: Canmore
Año:
Localización:
Ver mapa más grande
Estado: Terminado
Descripción:En las Rocosas canadienses no existe ninguna montaña llamada Brokeback. Tampoco en Wyoming, donde se ambienta la romántica historia de dos cowboys que se conocen cuidando rebaños de ovejas en la América profunda. Seguir la estela de esta película, y pisar el mismo suelo que los actores Heath Ledger y Jack Twist pisaron es, no obstante, posible. Basta con trasladarse a las Montañas Rocosas y más en concreto a Alberta, donde la avalancha de visitantes se ha convertido en una constante, dado los éxitos conquistados por la cinta.
Lo sabe bien una de las agencias locales, Travel Alberta, que en su página web da constancia de que cada semana reciben docenas de llamadas de personas interesadas en conocer los lugares del rodaje.
Brockback mountain se ha ambientado en un amplia zona que se extiende por diferentes por laderas y picos que van desde las montañas de las Tres Hermanas (Three Sisters), a los alrededores de la ciudad de Canmore o Moose Mountain, en Kananaskis Country.
Un buen puñado de las escenas que se pueden repetir transcurren en algunos de los últimos campamentos de Alberta. Una de ellas, por ejemplo, se ha rodado en el Lago Upper Kananaskis, accesible al visitante, al igual que las cataratas Elbow o el desfiladero de Canyon Creek, que también se pueden contemplar en la cinta, cuyo director de fotografía, Rodrigo Prieto, se ha dejado asesorar por la Asociación Gay de Rodeo de Calgary, a la hora de seleccionar los emplazamientos.
Tour de película
Las agencias locales ya brindan visitas completas a los escenarios de Brokeback mountain. La ruta, que arranca en la localidad de Calgary, permite dormir bajo las estrellas, desfilar entre rebaños de más de mil cabezas de ganado o disfrutar del bar en el que se enamora uno de los protagonistas.
A poco más de una hora de esta ciudad de un millón de habitantes se encuentra Canmore, una localidad alpina que acogió el rodaje durante dos semanas. La cordillera de las Three Sisters ha sido una de las más retratadas en esta área. No se puede dejar de visitar.
Kananaskaskis Village se convierte en otro de los puntos de parada obligada. A los pies de la estación de esquí Nakiska, ha servido como campamento base para el rodaje de lagos y cañones e incluso del lugar donde a Ennis se le aparece un oso.
Los románticos preferirán Cowley, el punto donde arranca la película y en el que se conocen los dos protagonistas. O Fort Macleod, otra de las localidades canadienses que ha ganado fama tras la difusión de la película. Hasta ahora famosa por su teatro y la proximidad a un monumento catalogado por la UNESCO (el head-Smashed-In Buffalo Jump), los ciudadanos nunca olvidarán que en sus hoteles y sus restaurantes ha «vivido» y «cenado» Ennis.
http://www.forocoches.com/foro//showthread.php?t=374067
The Three Sisters are a trio of peaks near Canmore, Alberta, Canada. They are known individually as Big Sister (Faith), Middle Sister (Charity) and Little Sister (Hope).[2]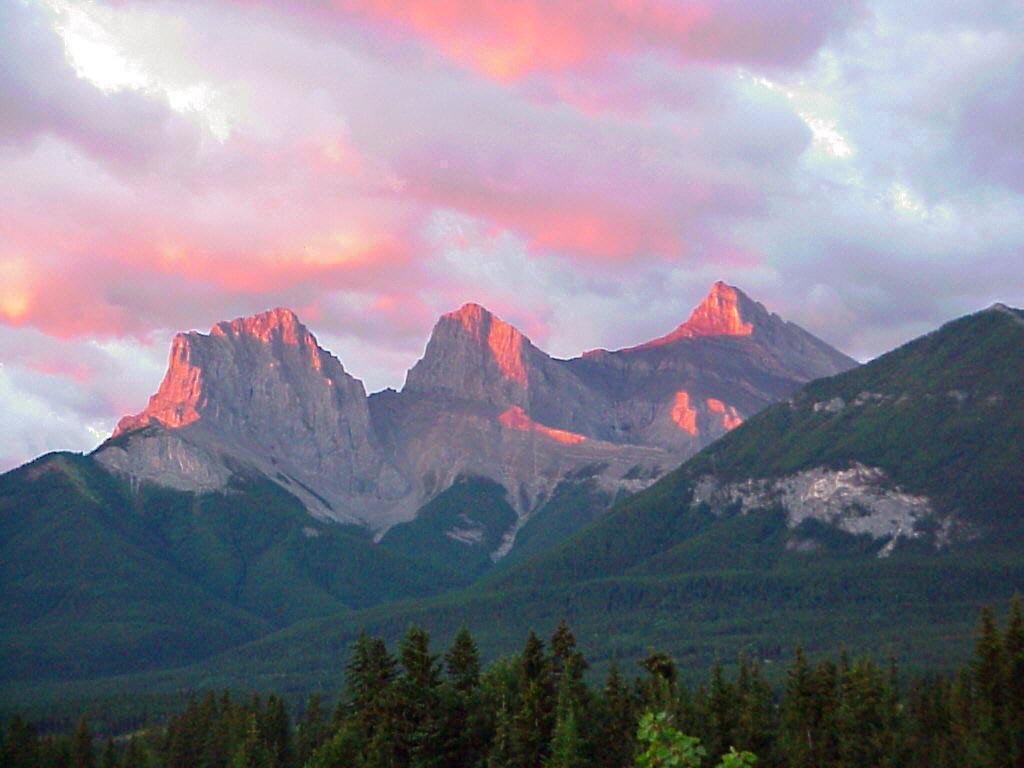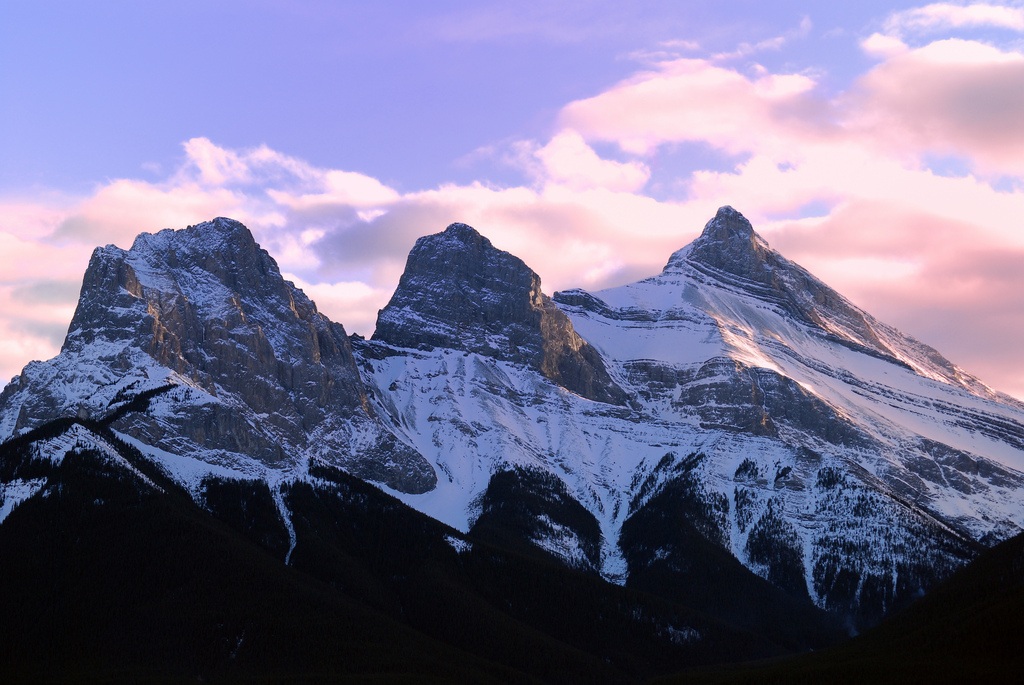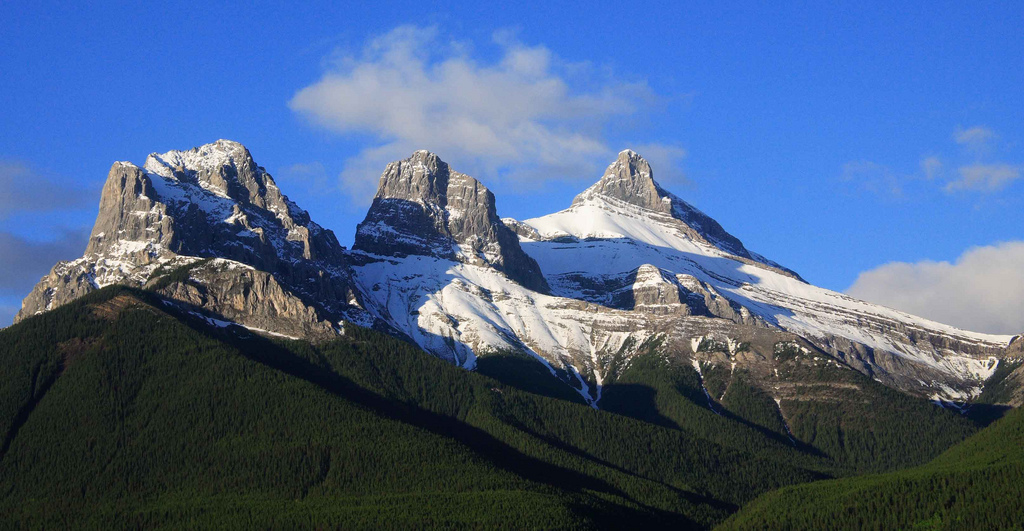 It was Albert Rogers, a nephew of Major Rogers, the discoverer of Rogers Pass in the Selkirk Mountains, who named the three peaks in 1883. He recalled, "There had been quite a heavy snowstorm in the night, and when we got up in the morning and looked out of the tent I noticed each of the three peaks had a heavy veil of snow on the north side and I said to the boys, 'Look at the Three Nuns.' They were called the Three Nuns for quite a while but later were called the 'Three Sisters,' more Protestant like I suppose." The name "Three Sisters" first appeared on Dr. George Dawson's map of 1886 and it is quite likely he who thought that the name Three Sisters would be more appropriate.
http://en.wikipedia.org/wiki/Three_Sisters_(Alberta)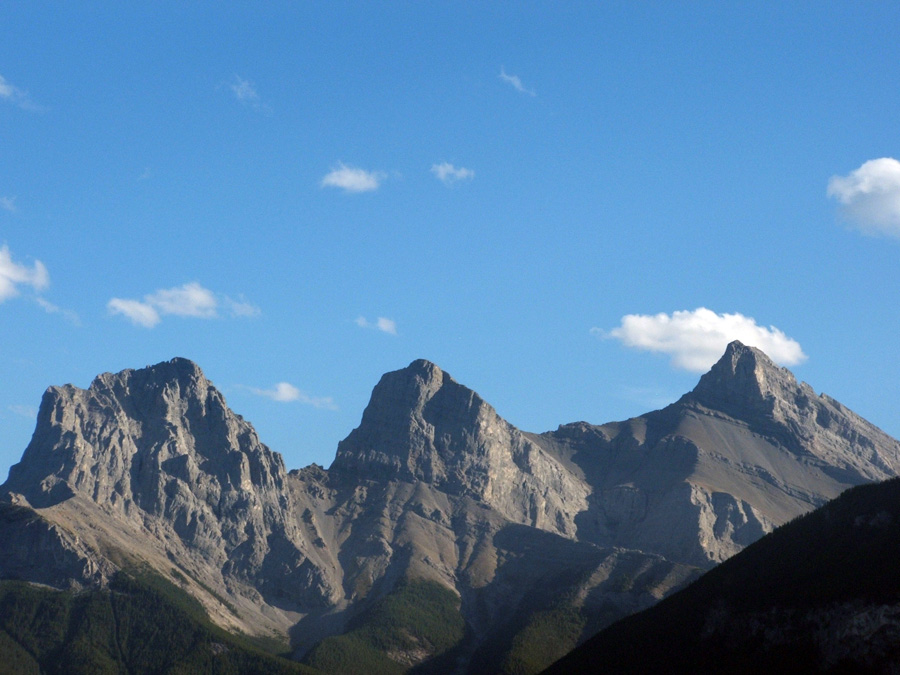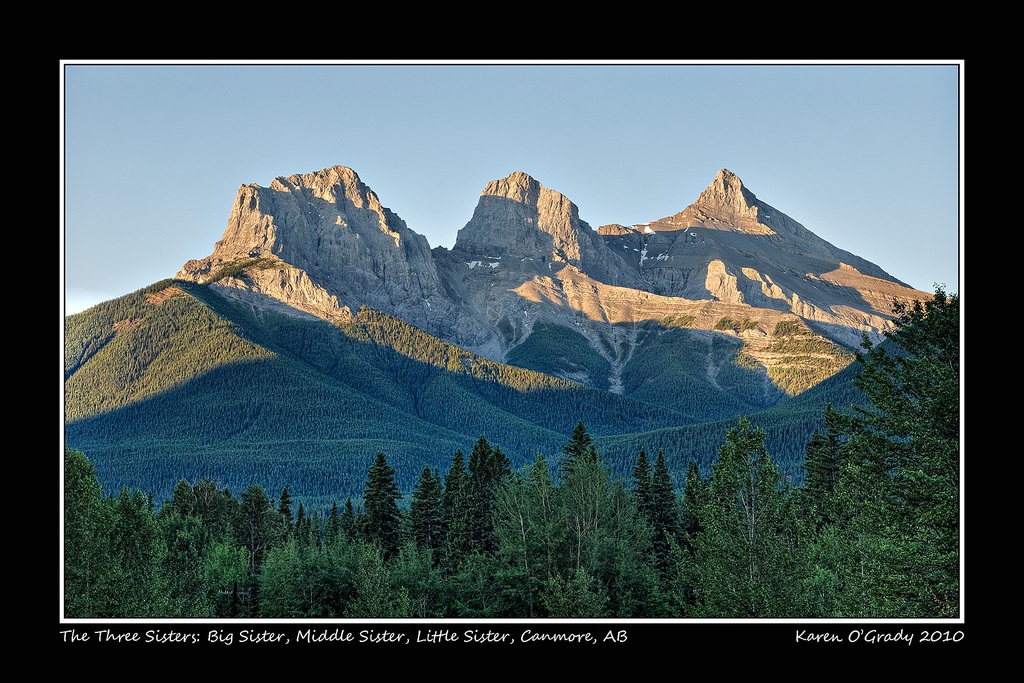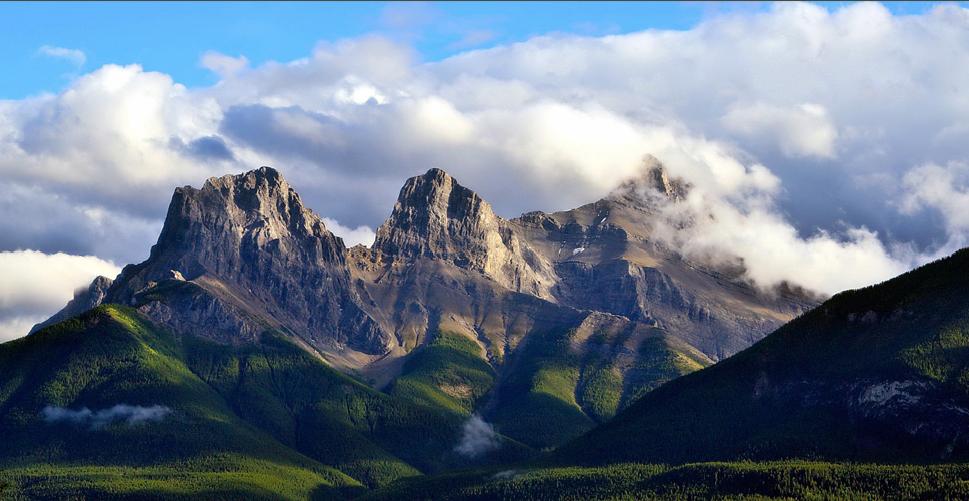 Geography
Concerns over Canmore's urban growth adjacent to provincial and national park land has led to many efforts to place a limit on future development. The town is expected to reach its maximum "build out" following the completion of the SilverTip and Three Sisters Mountain Village developments sometime around 2015–2020.[3]
Bisected by the Trans-Canada Highway, located on the Canadian Pacific Railway and run through by the Bow River, Canmore is ideally situated on a number of major transportation routes, which has influenced its tourism-based economy and historical mining industry.
Much of the Canmore area has been designated a wildlife corridor. This corridor allows animals such as bears, cougar, wolves, and elk to move between habitat patches, where they can find food, escape predators, breed, give birth, and establish territories.
Despite its modest population and environmentally friendly image, Canmore is highly sprawled and segmented (due to wildlife corridors, highways, the railway, and the Bow River) and takes over one and a half hours to traverse by foot. The pedestrian-friendly town centre surrounds 8th Street, or "Main Street" (as it is known colloquially), which was originally a residential road with some of the oldest architecture in the town; now, however, it is lined with small shops, restaurants, and galleries. Much of the recent development is taking place in Three Sisters Mountain Village, SilverTip Resort, and around the town centre.
A series of hiking, mountain biking, equestrian, and paved trails traverse the Canmore area. Major trail systems are located on the Benchlands of Mount Lady Macdonald, at the Canmore Nordic Centre, and along the north slope of Mount Lawrence Grassi. Many of these trails, and others around the community, are located within Bow Valley Wildland Provincial Park and Kananaskis Country. Some of these, including the Montaine Traverse Trail and the Highline Trail, have been improved by the Town of Canmore, the Government of Alberta, the MD of Bighorn, and various stakeholders (Bow Valley Mountain Bike Alliance, the B.V. Riding Association, and local hiking groups) in order to balance recreational opportunities with environmental sustainability. Much of the upgrading has been accomplished by volunteers organized by the Trail Care Program of The Friends of Kananaskis Country.
Mountains located adjacent to and visible from the townsite are:
Ha Ling Peak (2,407 metres (7,897 ft));;
Grotto Mountain (2,706 m / 8,878 ft);
Mount Lady Macdonald (2,606 m / 8,550 ft);
Mount Lawrence Grassi (2,685 m / 8,809 ft); and
the Three Sisters (2,936 m, 2,769 m, 2,694 m or 9,633 ft, 9,084 ft, 8,839 ft).
Climate
Canmore's climate is relatively mild compared to other regions of Alberta, with the coldest month of January having an average high of −4.6 °C (24 °F),[4] with very low humidity that makes it feel considerably warmer than the thermometer indicates. Summers are short with daytime temperatures ranging from 18 °C (64 °F) to 22 °C (72 °F).
http://en.wikipedia.org/wiki/Canmore,_Alberta
http://es.wikipedia.org/wiki/Canmore
http://www.peakfinder.com/peakfinder.ASP?PeakName=the three sisters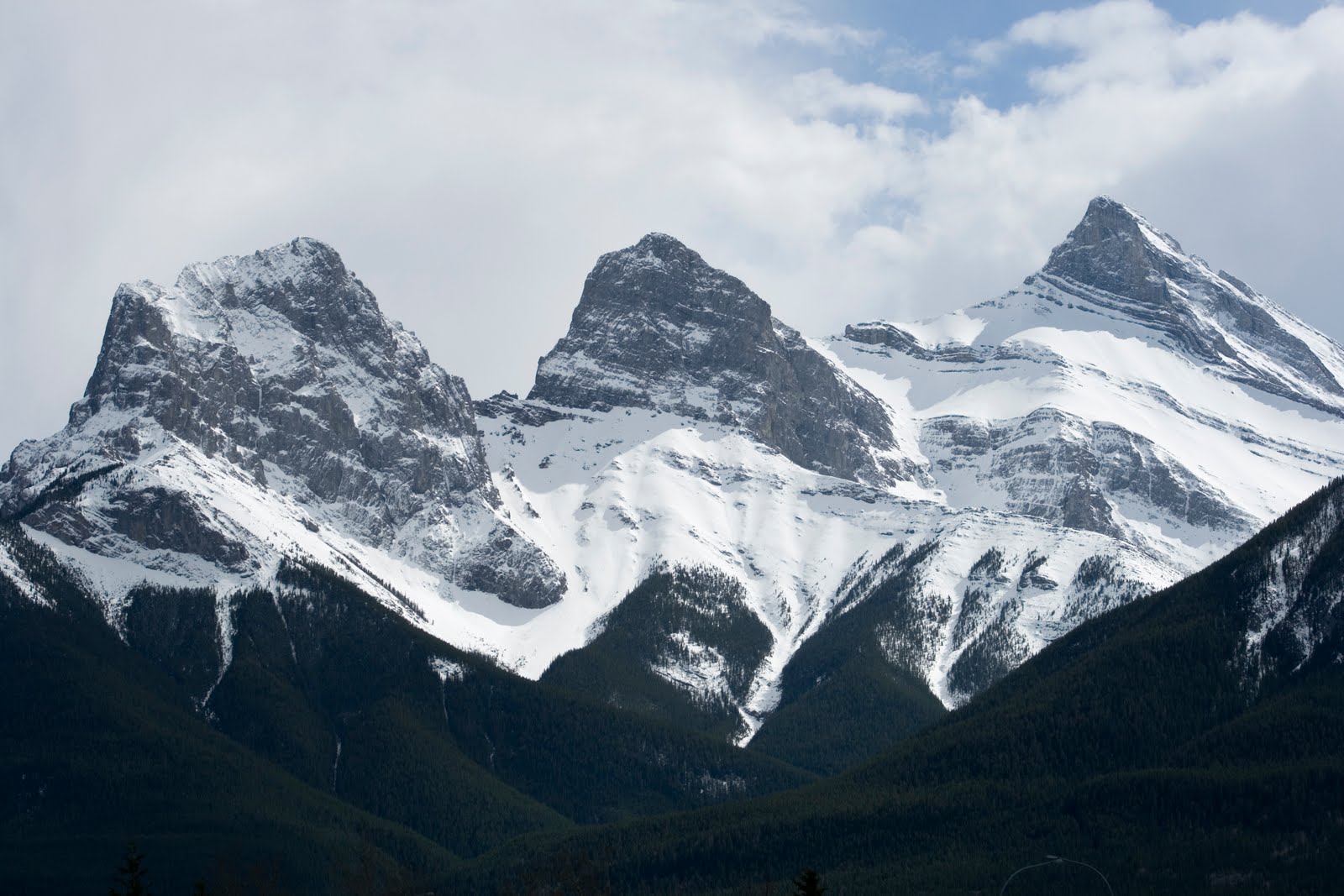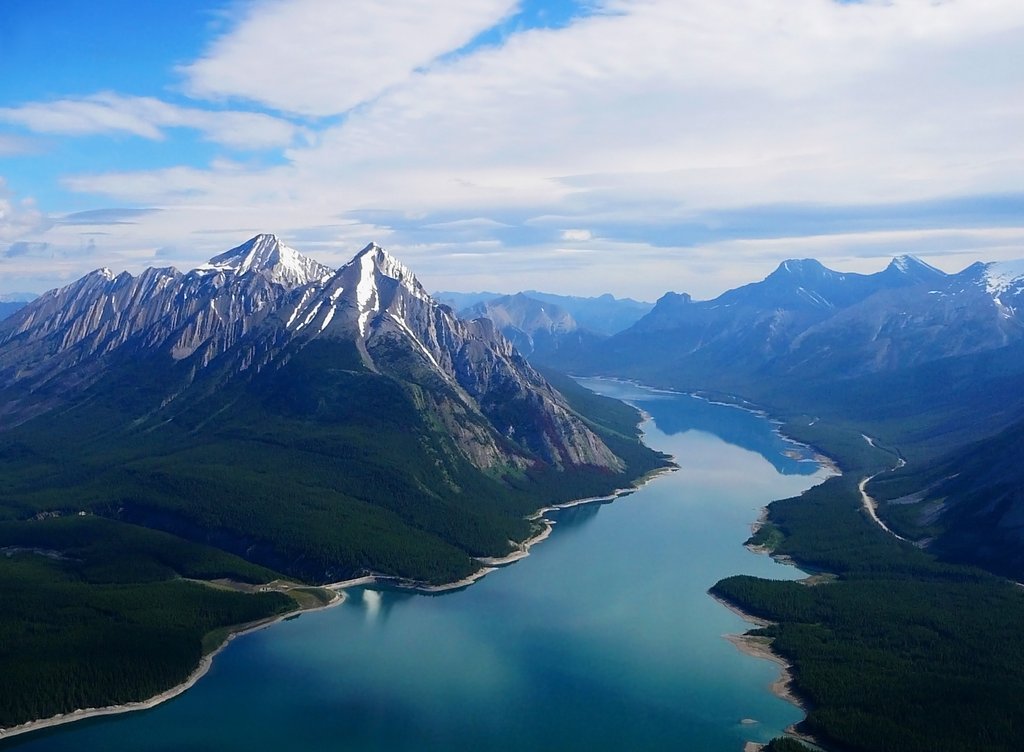 Rebuscando un poco por la web, encontré que gran parte de la película había sido rodada en una localización en Canadá. Concretamente, en la provincia de Alberta, en un lugar llamado Canmore (a unos 100 kilómtros de Albany). Muy cerca de ese sitio, Canmore, se centra la parte principal de la película, la de los parajes más impresionantes.
Según parece, en Wyoming no había la infraestructura suficiente para poder llevar allí a todos los miembros del rodaje...
El caso es que en Canmore, una web local, tiene una webcam fija apuntando a su pico más famoso, "The Three Sisters". Si uno se fija bien en la película, se pueden ver. El link con la dirección de esta webcam es este:
Es un poco freak, lo sé, pero me da igual. Las imágenes de la web se actualizan cada tres minutos; si el día es muy nuboso o con niebla, no se distinguen, pero si el tiempo acompaña, se divisan perfectamente los tres picos que dan nombre a la montaña.
http://brokebackmountain.mforos.com/935364/4145340-the-three-sisters/