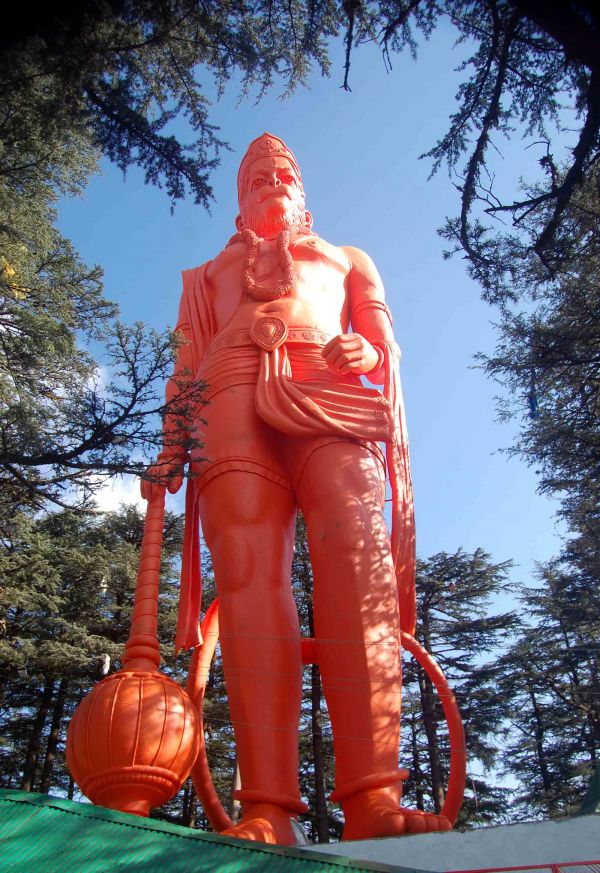 Voto:
Continente: Asia
País: India
Localización: Shimla, Himachal Pradesh
Año: 2010
Estado: Destruido
Descripción:Hanuman Statue - Jakhoo Temple - Himachal Pradesh
Lord Hanuman is one of the famous Gods worshipped across the Country, famously known as Ram Bhakth [ardent devotee of Lord Rama] and known for his mighty power and strength.
There are multi tall structures built across the country, however the birth place of Hanuman is assumed to be on Anjaneya Hill at Hampi in Karanataka
Above depicted is the Second Largest Statue of Lord Hanuman situated in Jakhoo Temple in Shimla, it weights around 1500 tones, with a height of 108 feet.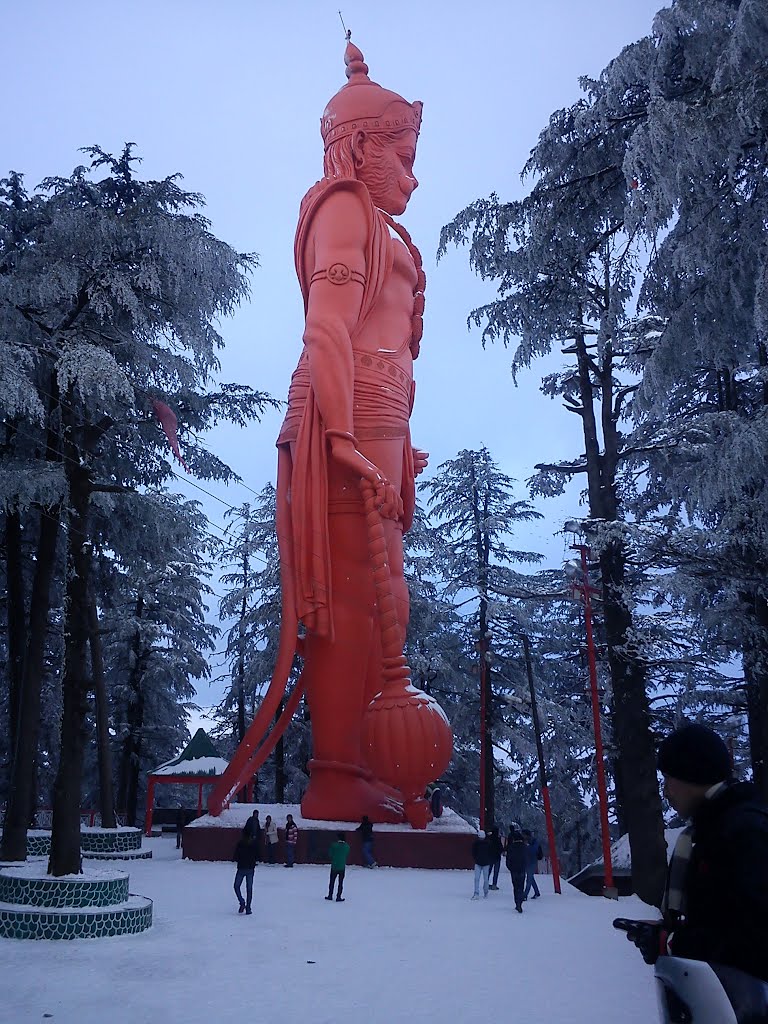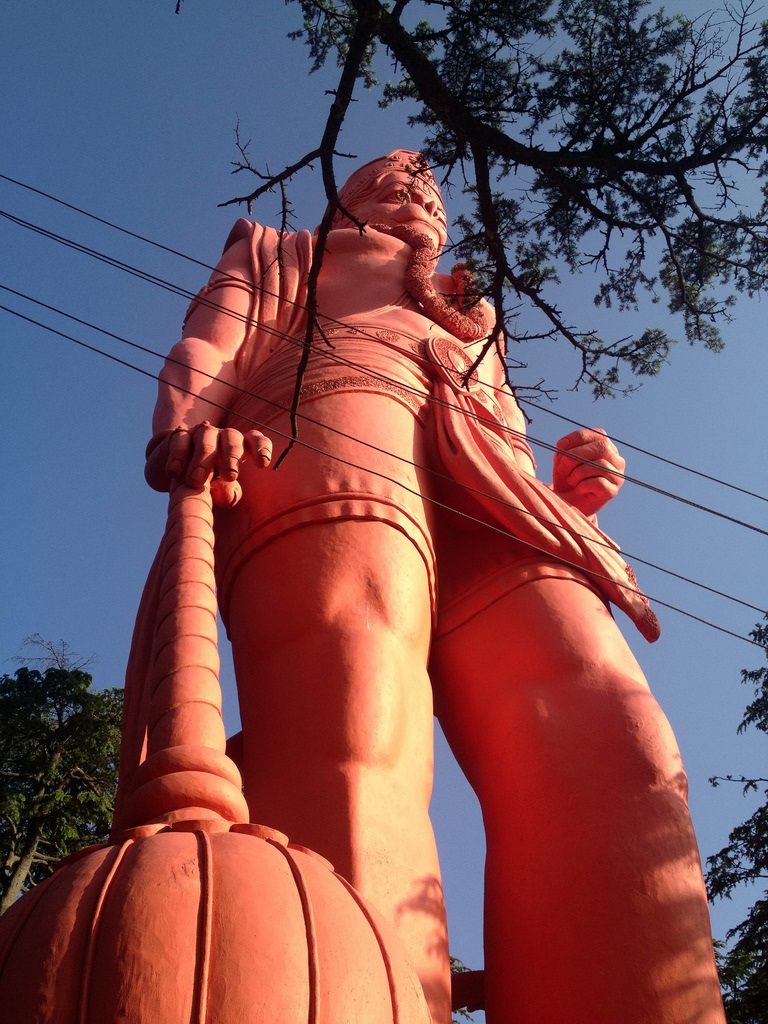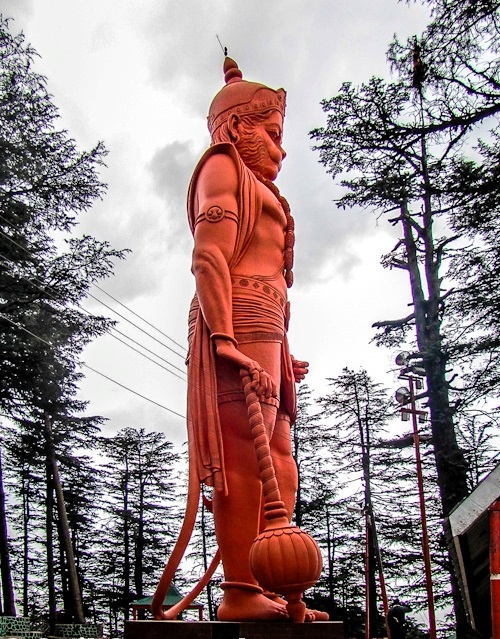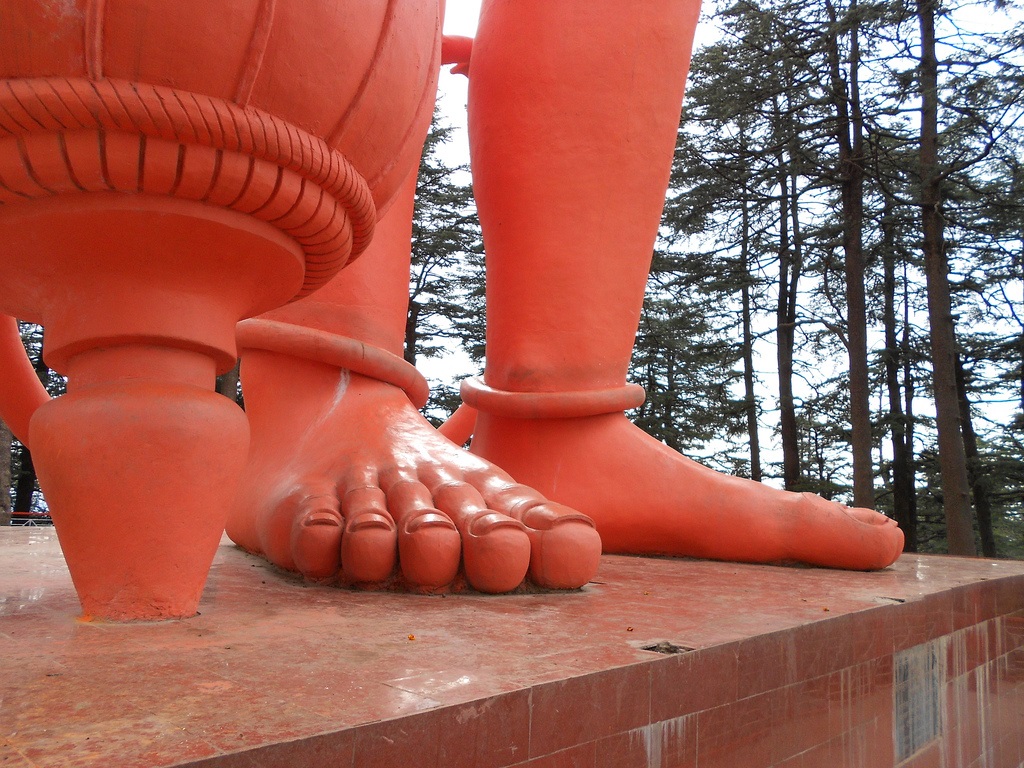 Special care is being taken in building the Statue with world class material used for its long lasting stability the idol is being situated at an altitude of 8500 feet from the Sea level. Statue is being equipped with Sensors to keep birds away from the statue and to retain the beauty of the Idol.The statue has attracted quite a good number of tourists, which is increasing year by year giving an edge to shimla tourism
The Statue was inaugurated on 4th Day of November, 2010 by Hon'ble Chief Minister Himachal Pradesh, Mr. Prem Kumar Dhumal, also joined by Mr. Abhishek Bacchan [Belongs to film fraternity of Bolywood] on Hanuman Jayanti.
History on the Jakhu hills say that, Lord Hanuman took rest while he was sent to bring Sanjeevani herb to save the life of Lakshmana [brother of LordRama], during the epic Ramayana was taken place, and it is where the present hanuman temple is located in his memory
The Tallest Statue of Hanuman is Located in city of Vijayawada, Andhra Pradesh, as Is famously known as Veera Abhaya Anjaneya Hanuman Swami Statue
http://divinehindugodwallpapers.blogspot.com.es/2012/07/hanuman-statue-jakhoo-temple-himachal.html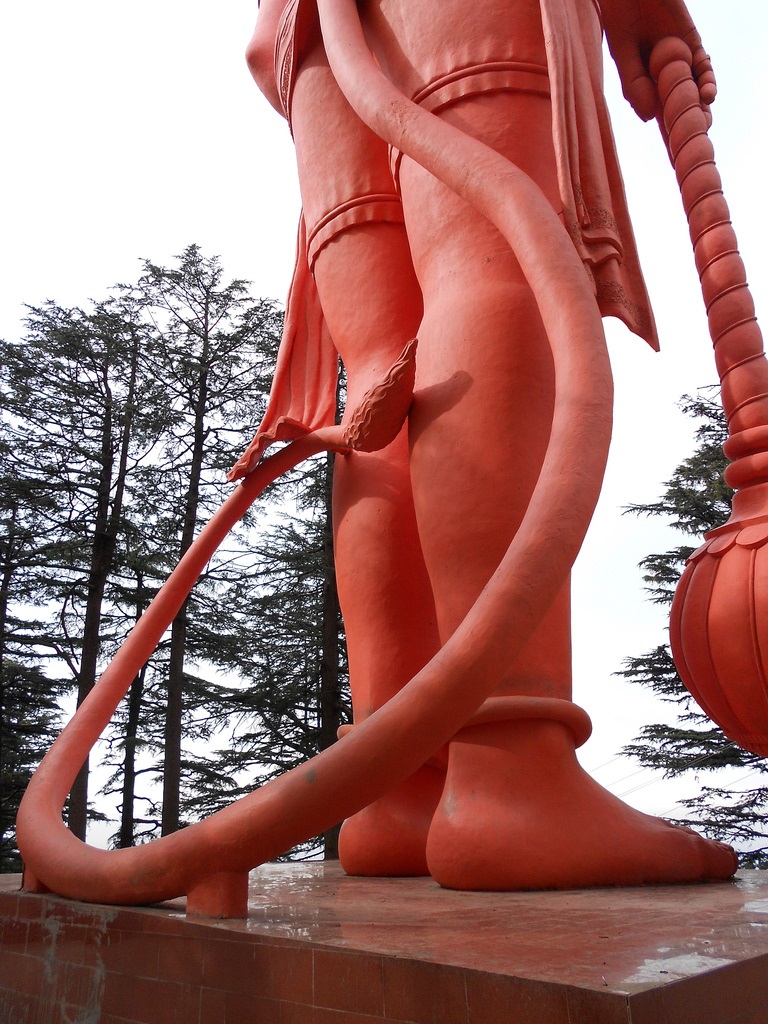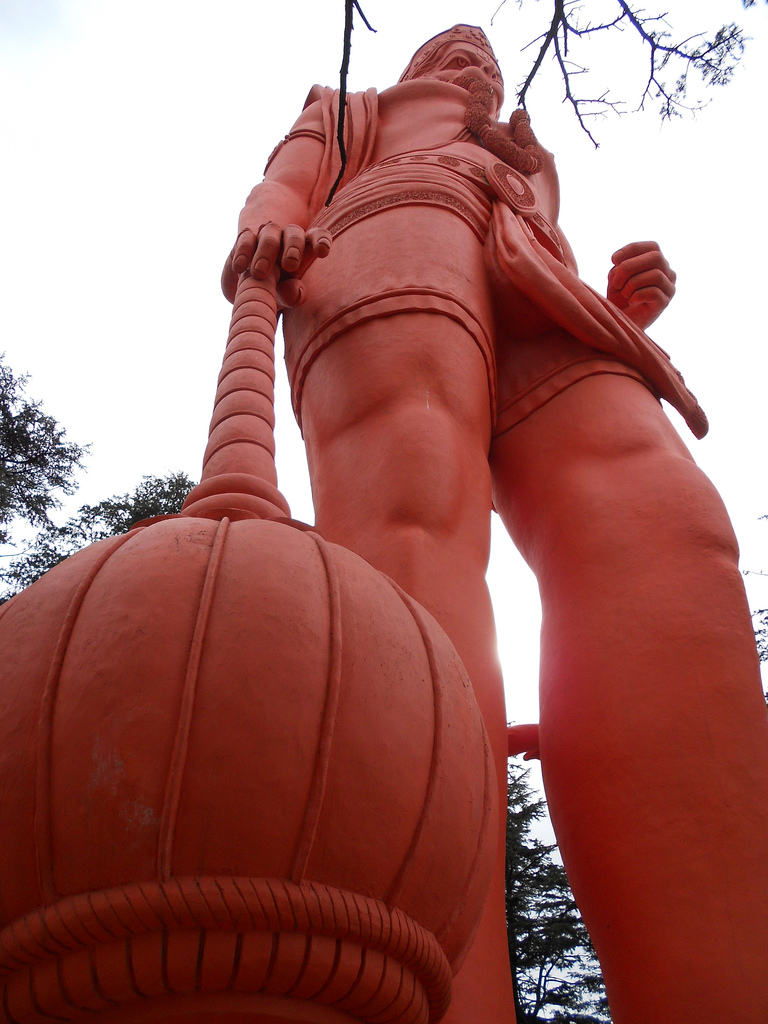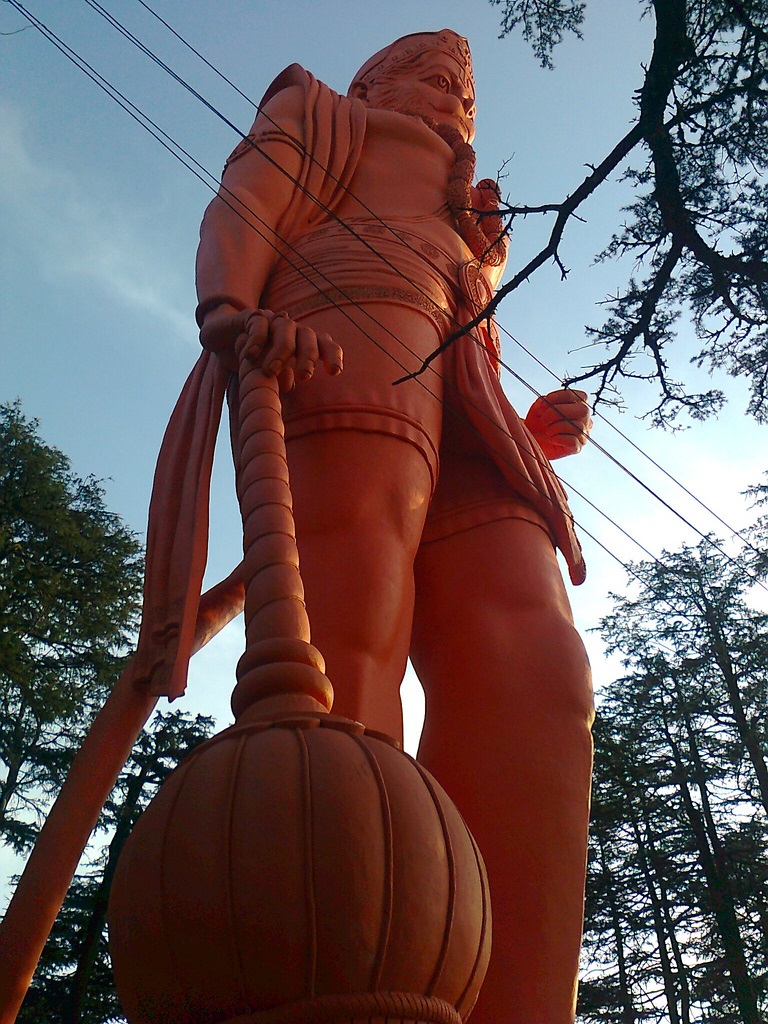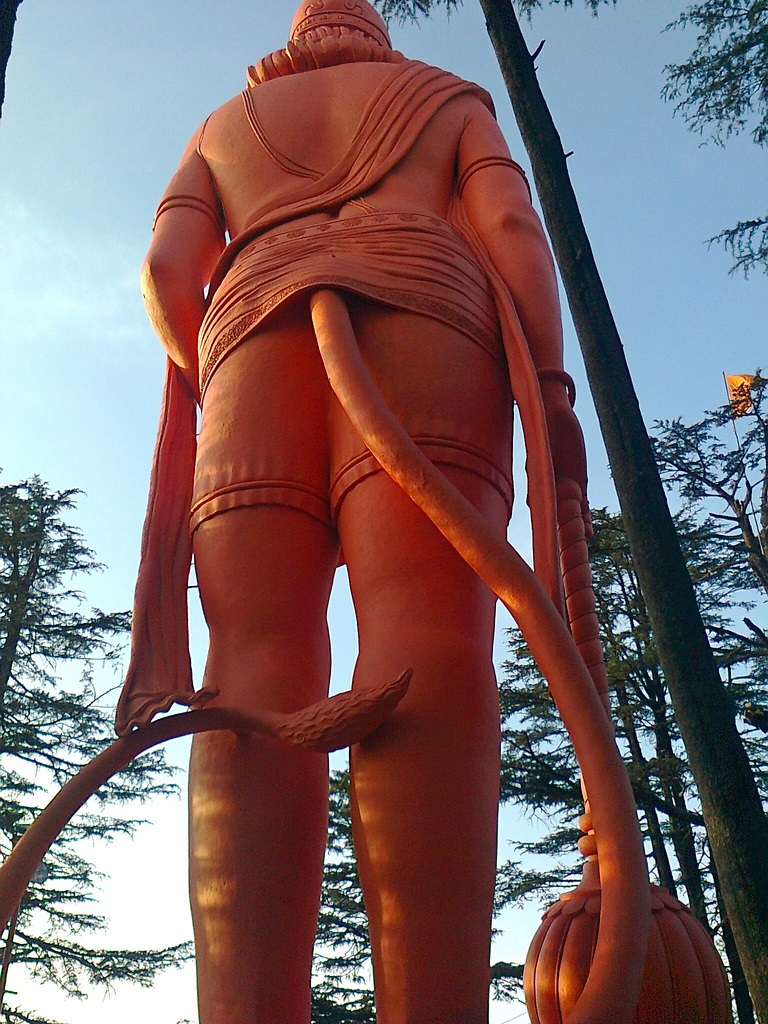 Jakoo Hanumanji Temple In Shimla
12 Jul
This is a fourth Hanumanji Temple, i have come across. Heard a lot and recently a massive 108 feet Hanumanji has been built on top of the Jakoo Hills, which is the world tallest Hanumanji. Indeed people have been blessed and wishes got full filled. This Temple of Hanumanji is dear to me, i wish when ever, i am in India, Hanumanji helps me make a plan to take his blessings. In the end of the blog, i will list some other websites/blogs Hanumanji devotees have published.
The temple was built by Yaaku saga, long back when Ramji took avatar for the mankind's upliftment. During fight between Ramji and Ravan, when Ramji brother Lakhanji was injured, Hanumaji went to Himalaya to bring medicine to cure Lakhanji illness. On the way to Himalaya, Hanumanji saw Yaaku saga worshiping Ramji, reciting Ramji's name, as we know Ramji bhajan is dear to Hanumanji, hence he stopped and visited Yaaku saga.
I should mention, Hanumanji also stopped for Ramji bhajans when devil Kaalnemi (Ravan's friend) was reciiting Ramji's name, Kaalnemi's plan was to stop/kill Hanumanji, so that Hanumanji could never reach before sun-rise and save Lakhanji. Hanumanji is Rudra Avatra of Maha-Kaal (Lord Shiva) and he killed Kaalnemi immediately and continued his Lord Ramji service.
Back to Jakko Temple, Since Hanumanji was impressed with saga Yakku worship, he appeared in an idol. Saga Yakku built temple and then onward worship of Jakko Hanumanji commence.
Recently, 108 feet tall Hanumanji has been built on the top the Jakoo Hill. Indeed its massive and impressive Hanumanji statue
http://gurujiseva.wordpress.com/2012/07/12/jakoo-hanumanji-temple-in-shimla/
http://www.flickr.com/photos/8293801@N07/tags/hanuman/
http://www.flickr.com/photos/distan/tags/hanuman/
http://www.panoramio.com/user/3348863/tags/Jakhu Temple